Maple Banana Bread
---
Breakfast and Brunch / Picnic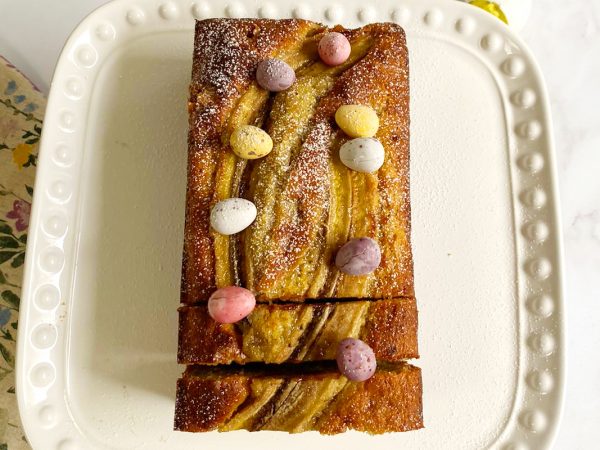 Ingredients
125g salted butter at room temperature
100g caster sugar
3 tbsp pure maple syrup (preferably amber syrup for its rich taste)
2 eggs
3 ripened bananas (1 for decoration)
175g of plain flour
1 tsp of baking powder
Mini chocolate eggs
Utensils:
Whisk
Large mixing bowl
Small mixing bowl
Loaf tin
Grease proof paper
Method
Mix the butter and the sugar together
Add the eggs and the pure Canadian maple syrup and mix again
In a separate bowl, add the baking powder to the flour and mix together before adding to the rest of the mixture
Mash two bananas together with a fork in a bowl then add to the batter and give it a final mix
Line a loaf tin with butter and grease proof paper then add mixture, using your spatula to smooth the batter into all corners
Poke the mini eggs into the banana bread batter. Cut the remaining banana in two and sit on top of the banana bread
Bake in a preheated fan oven at 180 degrees for 35 to 40 minutes
Remove from the oven, add any extra chocolate on top for decoration
Start the day in style with maple banana bread. The delicious combination of banana and rich, amber maple syrup makes a tasty breakfast or snack.
The Quebec Maple Syrup Producers are not in any way responsible for the identification or presence of allergens in recipes or for the classification of any recipe as vegetarian or vegan.
Hundreds of Delicious Recipes
Maple is a special addition to any recipe, from starters and snacks to sumptuous desserts. Find one that's perfect for you, your family and friends.