Our guide to which maple dishes are in season
Eating seasonally is one of the most delicious ways to live more sustainably and the UK is home to the very best fresh produce, from herbs and spices, to fruit and vegetables. However, keeping up with what's in season monthly and learning how to make the most of produce when it's at its best can be tricky.
We've created a seasonal food wheel, an easy guide which allows you to quickly see what produce is in season and provides inspiration to help you make those ingredients shine. Each recipe uses pure Canadian maple syrup to help transform fresh fruit and veg into sustainable and delicious lunches, dinners and more.

Maple in Season Podcast
From learning what it really means to eat in season to talking to some of the UK's most influential food experts, our new podcast celebrates the very best of seasonal and sustainable eating. 
The Maple in Season podcast is hosted by James Golding, a driving force in promoting sustainable eating in the UK hospitality industry and Group Chef Director for a major UK hotel group. 
---
Spring
When spring signals an end to what often feels like a long, cold winter, we celebrate the return of nectarines, apricots and rhubarb, alongside spring greens and root veg like peas, spinach and new potatoes. Discover our selection of delicious spring recipes and enjoy what this season has to offer.
 
---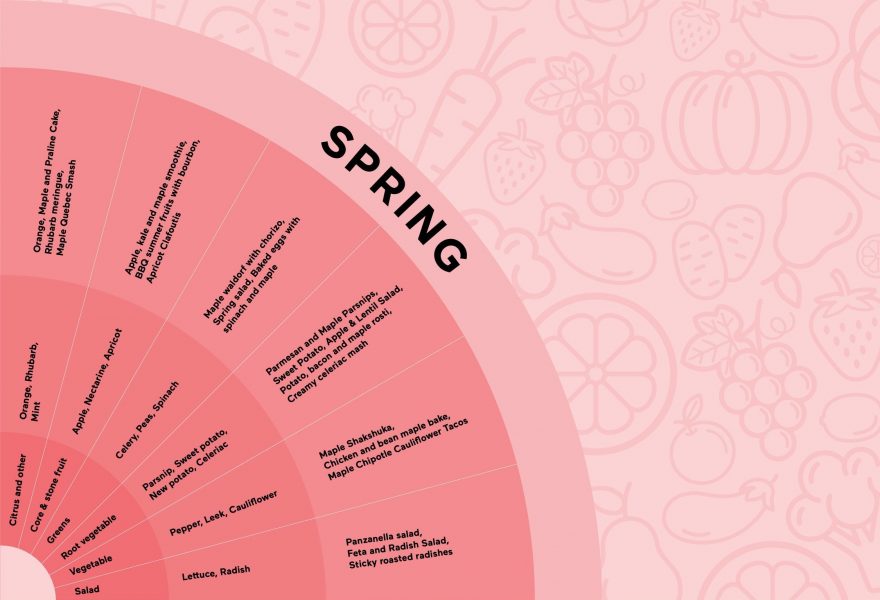 ---
Summer
The warmer summer months see an abundance of berries coming into season, with plenty of recipes to choose from that feature strawberries, cherries, raspberries and blackberries. We also look to ingredients including tomatoes, asparagus and aubergine in our selection of summer recipes that are perfect for outdoor dining and enjoying the sunshine.

---
---
Autumn
The arrival of autumn brings with it some exciting new seasonal ingredients, including pumpkin, fig, carrot, chestnut and beetroot. Plums and pears are also back on the menu to add an autumnal feel to your desserts. Browse our hearty autumn recipes for ideas to keep your dishes in step with the seasons.
---
---
Winter
As Christmas time draws near, it's time to look to festive favourites like Brussels sprouts and cranberries to add some seasonal sparkle to your recipes. There's also a great variety of root vegetables in season, with swede and jerusalem artichoke added last season's selection. Check out some of our favourite winter warmers below.
---