Baked Aubergine, Halloumi and Herby Maple Crumb
---
Mains / Vegetarian Mains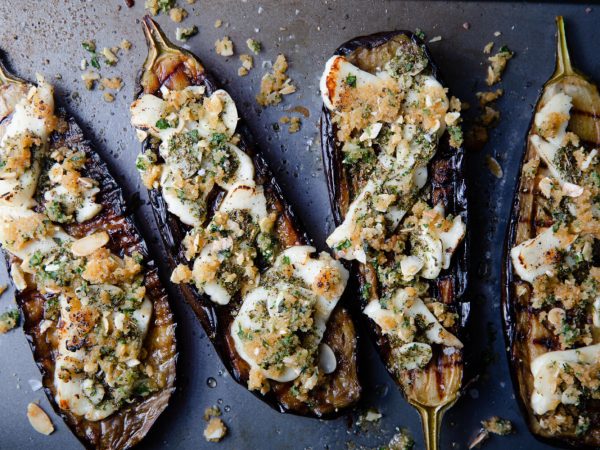 Ingredients
4 aubergines, halved
Salt and pepper for seasoning
2 tbsp olive oil plus extra for brushing
2 tbsp red wine vinegar
2 tbsp pure maple syrup (preferably golden colour for its delicate flavour)
60g flaked almonds
6 tbsp natural breadcrumbs
Handful of mixed fresh herbs, chopped (mint, parsley and coriander)
450g halloumi, sliced
Method
Preheat the oven to 160C/Gas 4
Score the flesh side of the aubergines and season with salt, pepper and brush with oil
Heat an oven-proof griddle pan and brush with extra oil. Bring to a high temperature
In a bowl, mix together the vinegar, olive oil, maple syrup and flaked almonds
Season then fold in breadcrumbs, followed by chopped herbs and mix together well. Set aside and allow ingredients to infuse
Place the aubergines flesh side down onto the griddle pan and leave for 5 minutes, allowing time to take on colour
Turn the aubergines over and position halloumi slices on top
Spread breadcrumb and herb mixture over halloumi and bake in the oven for 20 minutes until browned and melting
Be careful not to over-season with salt as halloumi can be quite salty. Delicious with a crisp salad
This hearty vegetarian dish is packed full of amazing flavour combinations with sweet maple, salty halloumi and delicate fresh herbs.
The Quebec Maple Syrup Producers are not in any way responsible for the identification or presence of allergens in recipes or for the classification of any recipe as vegetarian or vegan.
Hundreds of Delicious Recipes
Maple is a special addition to any recipe, from starters and snacks to sumptuous desserts. Find one that's perfect for you, your family and friends.