Olivier Briault's Blueberry and Maple German Yeast Cake
---
Sweet Treats / Cakes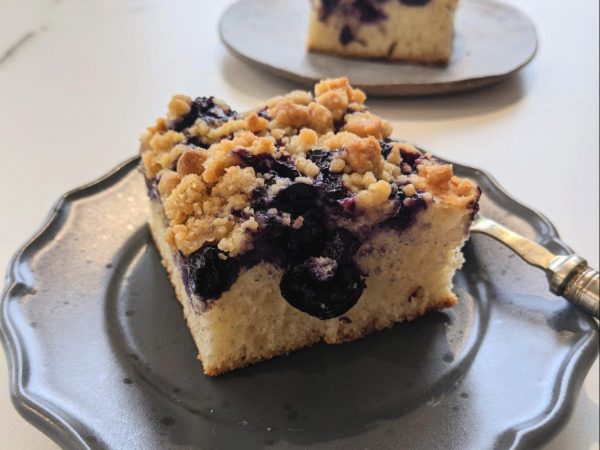 Ingredients
For the dough
150ml milk
1 egg
1 egg yolk
1 tsp almond extract
50ml maple syrup
8g salt
zest of 1 lemon
360g plain flour
1 sachet of instant yeast
60g butter
200g blueberries
For the topping
120g plain flour
100g maple sugar
1 pinch of salt
100g butter
Method
To make the dough
Whisk together the milk, egg, egg yolk, almond extract, maple syrup, salt, and zest.
Add the flour and yeast to the bowl and mix until everything comes together. This should take about 2 to 3 minutes.
Add the butter in four additions, mixing until each is incorporated.
Continue mixing at low speed until the dough is smooth and shiny.
Gently deflate the dough and place it on a lightly floured surface.
Roll it into a rough 10" x 15" rectangle. Transfer the dough to a baking sheet.
Using your fingertips, gently press and stretch the dough into a neat 10" x 15" rectangle. Cover with cling film.
While the cake is rising, preheat the oven to 180c.
Sprinkle the blueberries on top of the dough.
Cover the cake and allow it to rise for 20 to 30 minutes.
To make the topping
In a bowl, whisk together the flour, sugars, and salt. Pour in the melted butter, stir the mixture with your fingers until it starts to become crumbly. Don't mix too long; you don't want it to become a cohesive mass.
To bake the cake
Sprinkle the topping over the cake. Place it in the oven and bake it for 30 to 40 minutes, until the edges are golden brown.
Remove the cake from the oven.
Let it cool to lukewarm or room temperature before serving. Garnish each serving with whipped cream, or ice cream.
A traditional and sweet German delicacy, a blueberry and maple German yeast cake. A great recipe to try something new.
The Quebec Maple Syrup Producers are not in any way responsible for the identification or presence of allergens in recipes or for the classification of any recipe as vegetarian or vegan.
Hundreds of Delicious Recipes
Maple is a special addition to any recipe, from starters and snacks to sumptuous desserts. Find one that's perfect for you, your family and friends.