British Summer Fruit Trifle with Maple
---
Desserts / Puddings / Summer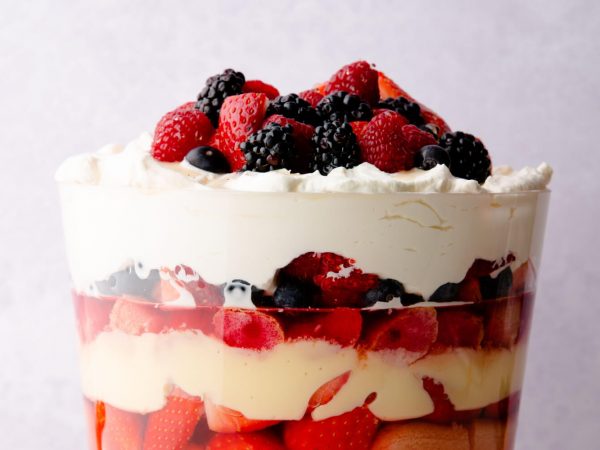 Ingredients
12 trifle sponge fingers
200g fresh strawberries, washed, destalked and quartered
2 sachets of strawberry flavour jelly crystals plus 285ml of hot water
3 tbsp pure maple syrup (preferably dark syrup for its robust taste)
300ml ready-made custard
125ml whipping cream
125g fresh blueberries
125g fresh raspberries
100g fresh blackberries
Method
Break the sponge fingers into pieces and place in the base of the trifle dish. Scatter with a handful of strawberries
Dissolve one sachet of jelly crystals in 285ml of boiling water and add the maple syrup
Pour over the sponge fingers and strawberries and leave to set overnight in the fridge
Spread a layer of cold custard over the set jelly and strawberries and top with raspberries and blueberries and set aside – leave enough for topping
Repeat the process for a second layer of jelly and fruit
In a separate bowl, whip the cream to form stiff peaks and generously spread a thick layer on top of the fruit
Decorate with the remaining strawberries, raspberries, blueberries and blackberries and chill to set before serving
Summer desserts don't get much better than the traditional English trifle! The perfect centrepiece for any summer celebration, this fruit trifle recipe is enhanced by the natural sweetness of Canadian maple syrup, which pairs perfectly with the fresh summer fruits.
The Quebec Maple Syrup Producers are not in any way responsible for the identification or presence of allergens in recipes or for the classification of any recipe as vegetarian or vegan.
Hundreds of Delicious Recipes
Maple is a special addition to any recipe, from starters and snacks to sumptuous desserts. Find one that's perfect for you, your family and friends.