Chocolate, Avocado and Maple Vegan Tart
---
Desserts / Cakes / Puddings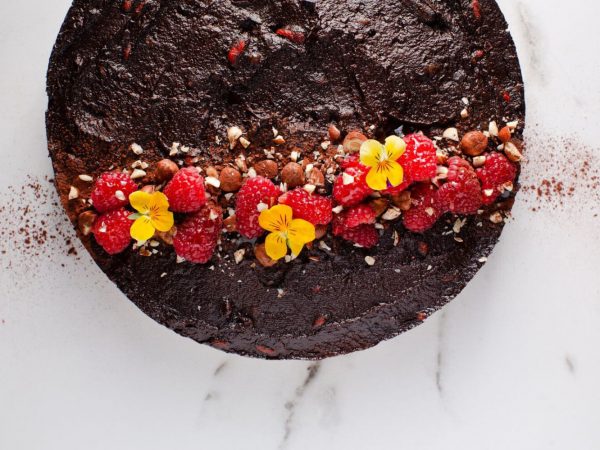 Ingredients
175g hazelnuts
1 tbsp coconut oil
3 tbsp pure maple syrup plus an extra 2 tbsp (preferably amber syrup for its rich taste)
Pinch of salt
135g dried dates, pitted and halved
4 avocados, peeled, stone removed
100g cocoa powder
45g dried goji berries
Handful of raspberries and edible flowers for garnish
Method
To make the hazelnut base, blend the hazelnuts into a fine texture then add coconut oil, 3 tbsp of maple syrup and salt
Bring together to form a spreadable consistency
Spread this mixture into the base of a round springform tin and leave to chill in the refrigerator overnight
In a food processor, blend the dates and 2 tbsp of maple syrup into a smooth paste and add the avocado flesh. Pulse until smooth
Pour blender contents into a bowl and stir in cocoa powder and goji berries. Combine well together
Remove set hazelnut base from the refrigerator and spoon and spread over the date and avocado mix
Smooth and level out using a palette knife and leave to refrigerate overnight to fully set
Dress with the raspberries and edible flowers. Slice using a warmed knife when ready to serve
Prepare the tart in advance to take the stress out of entertaining and store covered in the fridge
This indulgent vegan chocolate tart is perfect for parties. It's rich, subtly sweet and totally delicious.
The Quebec Maple Syrup Producers are not in any way responsible for the identification or presence of allergens in recipes or for the classification of any recipe as vegetarian or vegan.
Hundreds of Delicious Recipes
Maple is a special addition to any recipe, from starters and snacks to sumptuous desserts. Find one that's perfect for you, your family and friends.