Free-range poached chicken, maple and grape dressing
---
Mains / Summer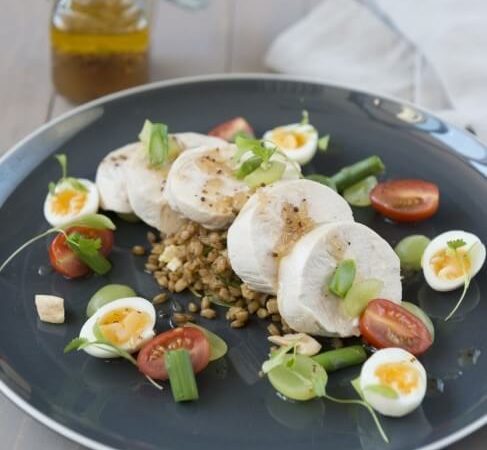 Ingredients
3 chicken breasts, skin and fat off
600ml chicken stock
1 bay leaf
4 sprigs of thyme
100g green beans, blanched
4 soft-boiled quail eggs
300g baby spinach, picked and washed
25g cherry tomatoes
Spelt
1 tsp rapeseed oil
1 onion, finely chopped
300g spelt
25g dried apple, chopped
Zest of 1 lemon and juice of half
Salt and pepper, to taste
Dressing
1 shallot, finely diced
100ml cider vinegar
75ml pure maple syrup
25g English mustard
25g green grapes, peeled and halved
Method
Poach the chicken in stock and set aside. Keep the stock.
For the spelt mixture, heat oil, add onions until soft, add spelt and stir well. Add stock from the chicken and cook for 20 minutes.
Remove from heat and stir in dried apple and lemon.
For the dressing, sauté the shallots and add the green grapes, cider vinegar, maple syrup and English mustard.
TO SERVE
Add spelt to the centre of the plate. Add green beans, baby spinach, sliced poached chicken, quarters of cherry tomatoes and soft-boiled quail eggs. Finish with maple and green grape dressing.
Maple syrup is used as part of the dressing that really sets this dish apart. Mustard and cider vinegar are also incorporated to make sure there is plenty of punch.
The Quebec Maple Syrup Producers are not in any way responsible for the identification or presence of allergens in recipes or for the classification of any recipe as vegetarian or vegan.
Hundreds of Delicious Recipes
Maple is a special addition to any recipe, from starters and snacks to sumptuous desserts. Find one that's perfect for you, your family and friends.