Maple Lemon Meringue Tart
---
Puddings / Cakes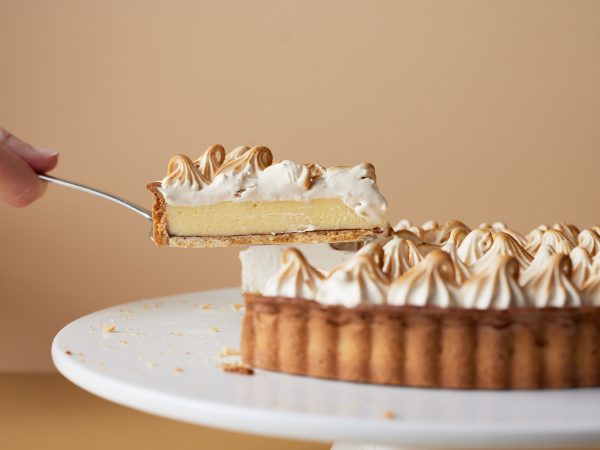 Ingredients
For the pastry
150g unsalted butter, cut into small cubes

180g maple sugar  

 

2 eggs

zest of ½ a lemon 

 

¼ tsp baking powder 

 

375g plain flour, plus extra for dusting 

 
For the lemon filling
200ml lemon juice  

 

150g maple sugar 

 

4

eggs

 

200g unsalted butter

 
For the meringue
3 egg whites

180g maple sugar
Equipment
You will also need a loose-bottom, fluted flan tin

and some baking beans.

 
Method
To make the pastry
In a food processor, add the butter and maple sugar and pulse together, then add the eggs

and mix on a low speed

.

 

When the mixture is smooth, add the flour, baking powder and lemon zest and bring together into a dough.

Wrap the dough in cling film and refrigerate for 2 hours. 

Tip the dough onto a lightly floured surface and use a rolling pin to roll out the pastry until it is big enough to cover your tin.

Press the pastry into the folds of the tin and make sure that any cracks are covered.

 

Chill for one hour.

Put a baking sheet in oven and preheat to

180c.

Line the chilled pastry case with greaseproof paper and fill with baking beans.

Bake the pastry case for 15 mins.

Remove from the oven and take out the beans and greaseproof paper.

    
To make the lemon filling
Add the egg

, lemon juice and maple sugar

to the

pan

and bring to a boil.

 

Add the butter bit by bit

, mixing continuously,

then pour the curd into your tart case.

Keep the tart in the fridge for 2 to 3 hours

so the curd sets. 

 
To make the meringue
Place the egg whites in a clean, dry mixing bowl and whisk until soft peaks form.

Gradually add the maple sugar, whisking all the time until the whites reach stiff peaks.
To assemble
Take the tart out of the fridge.

Spoon

the meringue mixture

into a piping bag fitted with a plain 1½cm nozzle and

pipe even blobs over the surface of the chilled curd in a neat pattern. 

Gently toast the meringue with a blowtorch

or place under the grill until lightly browned.
This lemon meringue pie includes a velvet smooth lemon tart, similar to a tart au citron, with a soft meringue topping. A delicious and fresh dessert.
The Quebec Maple Syrup Producers are not in any way responsible for the identification or presence of allergens in recipes or for the classification of any recipe as vegetarian or vegan.
Hundreds of Delicious Recipes
Maple is a special addition to any recipe, from starters and snacks to sumptuous desserts. Find one that's perfect for you, your family and friends.