Maple Pork Loin, Pineapple and Roast Potatoes
---
Mains / Pork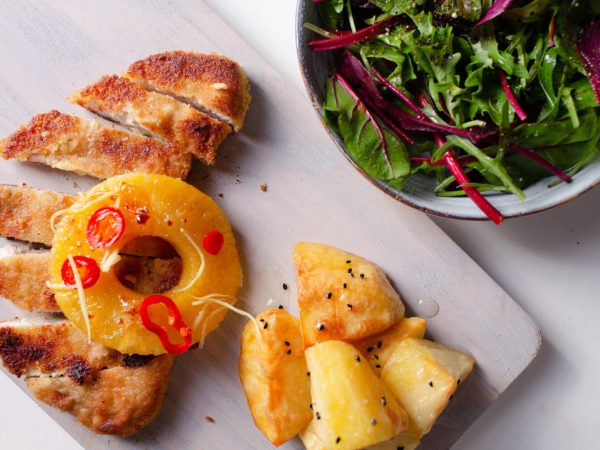 Ingredients
4 pork loin steaks, boneless
100g plain flour
1⁄2 tsp ground turmeric
1⁄2 tsp ground cumin
Salt and pepper to taste
2 eggs, beaten
50g natural breadcrumbs
3 tbsp sunflower oil for light frying
For the glazed pineapple:
5 tbsp pure maple syrup (preferably dark syrup for its robust taste)
250g tinned, sliced pineapple, keep juice
1 red chilli, finely sliced plus extra for garnish
40g fresh ginger
1 garlic clove
For the potatoes:
4 – 5 roasting potatoes, quartered
2 tbsp sunflower oil
2 tsp nigella seeds
Method
Preheat oven to 170°C/Gas 3
In a pan, gently heat maple syrup and pineapple juice. Add chilli, ginger and garlic and simmer together reducing liquid by half and set aside to cool completely
Set out 3 bowls. Mix flour, turmeric, cumin, pepper and salt in one
Put beaten eggs and cooled pineapple and maple reduction in the second bowl and breadcrumbs in the last bowl
Using a 3 – step coating process, dip the pork loin into each bowl starting with flour, then egg and pineapple reduction and then breadcrumb
Set coated pork aside on a plate
In a roasting tray, toss potatoes in sunflower oil, sprinkle with nigella seeds and oven bake for about 35 minutes or until roasted
At the same time, heat 3 tbsp of sunflower oil in a shallow pan and fry coated pork loins for 6 – 8 minutes until golden
Transfer the pork to an ovenproof dish and finish off cooking for a further 20 minutes in the oven or until meat is no longer pink
Using the same shallow pan and residual oil, warm the pineapple rings
Serve pork loins topped with pineapple rings accompanied by roast potatoes and a fresh green salad
A new maple take on the classic pork and pineapple pairing – great with a crisp green salad.
The Quebec Maple Syrup Producers are not in any way responsible for the identification or presence of allergens in recipes or for the classification of any recipe as vegetarian or vegan.
Hundreds of Delicious Recipes
Maple is a special addition to any recipe, from starters and snacks to sumptuous desserts. Find one that's perfect for you, your family and friends.