The Mother Cooker's Maple Sweetened Rhubarb Meringues
---
Desserts / Bakes and Sweet Treats / Influencer / Sweet Treats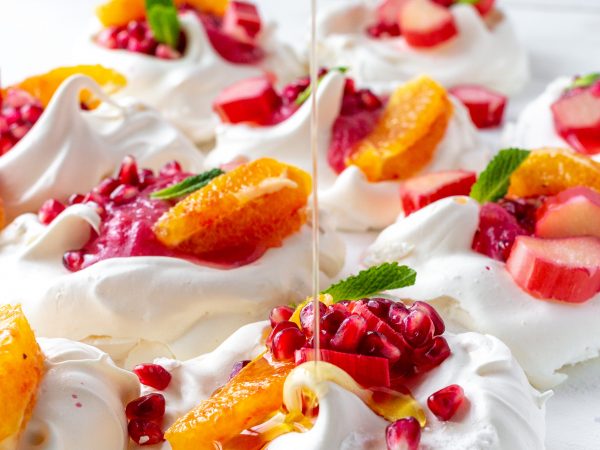 Ingredients
60ml maple syrup, plus extra to drizzle (preferably amber syrup for its rich taste)
200g rhubarb, chopped
1 orange
Pomegranate seeds
6 egg whites, room temperature
300g sugar
2 tsp cornflour
Method
Add chopped rhubarb to a pan with 60ml maple syrup, cook for around 10 mins until rhubarb has softened and sauce has thickened. Set aside to cool. You can make this ahead of time and keep it in the fridge.
For the meringue, pre-heat oven to 150c/300f/gas mark 2. Line a tray/trays with baking parchment and draw 12 2 inch circles. Turn the paper over so the ink doesn't rub off onto your meringues.
Add egg whites to a stand mixer with the whisk attachment, mix on low, increasing to medium until egg white become foamy peaks. Then add sugar a few tbsp at a time until incorporated and meringue becomes stiff and glossy.
Mix in cornflour.
Spoon mixture into your circles, flattening part to hold your maple rhubarb later on.
Bake for 35-45 mins, making sure they don't brown. Once that time is up, leave the meringue in the oven for two hours. Do not open the door. These meringues have a crispy exterior and soft interior.
Once ready, pile high with delicious maple sweetened rhubarb compote and top with orange segments, pomegranate seeds and a generous drizzle of maple syrup.
Nothing says "spring" quite like these amazing maple sweetened rhubarb meringues from The Mother Cooker. The sweet maple pairs perfectly with the tart fruit and crunchy meringue for a dessert the whole family will enjoy.
The Quebec Maple Syrup Producers are not in any way responsible for the identification or presence of allergens in recipes or for the classification of any recipe as vegetarian or vegan.
Hundreds of Delicious Recipes
Maple is a special addition to any recipe, from starters and snacks to sumptuous desserts. Find one that's perfect for you, your family and friends.