Naturally Natalie's Cherry Maple Pie
---
Influencer / Bakes and Sweet Treats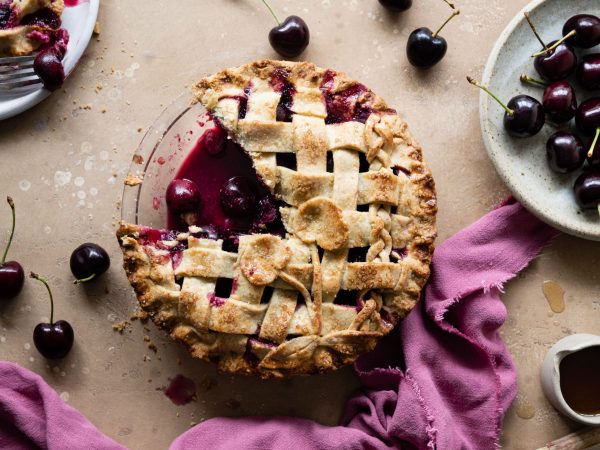 Ingredients
FOR THE PASTRY
350g plain flour
50g ground almonds
200g plant-based butter, cold and diced
3 tbsp maple sugar
Pinch of sea salt
1 tbsp oat milk
2 tbsp extra ground almonds for pie base
1 tbsp extra pure Canadian maple syrup (preferably golden syrup for its delicate taste)
FOR THE FILLING
700g stoned cherries
2 tbsp cornflour
4 tbsp pure Canadian maple syrup (preferably golden for its delicate taste)
1 tsp vanilla bean paste
Squeeze of lemon juice
Method
Preheat the oven to 180°C fan, grease a pie dish and set aside.
Place the flour, ground almonds, maple sugar and salt in a large bowl and stir to combine.
Add in the diced butter and using your fingers rub the flour and butter together to form breadcrumbs.
Add in 2-4 tbsp cold water gradually until the dough just comes together into a ball. Form into a rough disc and cover with cling film and place in the fridge. Do not over-handle the dough.
Add the stoned cherries to a large bowl and combine with the cornflour to coat them.
Then add the maple syrup, vanilla bean paste and lemon juice, stir to combine, and set aside. This filling will be runny, if you want a thicker filling add the ingredients to a pan and bring to a simmer for a few minutes until thickened then take off the heat and set aside to cool.
Meanwhile, roll out half the dough to about 5mm thick and lay it into the pie dish. Sprinkle in the extra 2 tbs ground almonds and if using the runner option add the cherry filling to the pie dish now, or for the other option add it once cooled.
You can then either roll out another sheet of dough and lay directly on top of the pie, making a small slit in the middle and crimping the edges. Or cut the sheet into strips and lattice the top.
You will have plenty of dough for decorations and even some leftover which you can freeze or use to make little tarts with other fruits sweetened with maple syrup.
Once your tart is assembled and edges crimped, brush with the oat milk and sprinkle with maple sugar for crunch.
Bake in the oven for about 30-40 minutes until the pastry is crisp and the filling bubbling.
Finish by brushing with a little extra maple syrup to glaze the pastry. Serve with cream, or vanilla ice cream.
A sweet delight sure to make the perfect treat this summer. Find more of Natalie's great recipes and imagery here.
The Quebec Maple Syrup Producers are not in any way responsible for the identification or presence of allergens in recipes or for the classification of any recipe as vegetarian or vegan.
Hundreds of Delicious Recipes
Maple is a special addition to any recipe, from starters and snacks to sumptuous desserts. Find one that's perfect for you, your family and friends.