Pear, maple and ricotta cake, maple ice cream
---
Sweet Treats / Desserts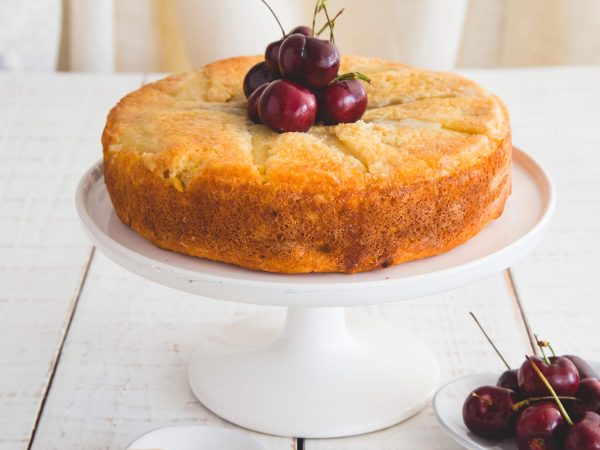 Ingredients
Cake
350g ricotta cheese
400g pears
250g plain flour
115g pure maple syrup
35g maple sugar
18g baking powder
3 eggs
Zest of 1 lemon
1tsp vanilla extract
10g butter, for greasing
Ice cream
4 egg yolks
600ml double cream
100ml pure maple syrup
25g maple sugar
Method
CAKE
Preheat oven to 180ºC/160ºC fan.
Peel and core pears and dice; place in a bowl with lemon juice so they don't go brown.
Mix ricotta, maple syrup and maple sugar; beat and add vanilla extract.
Beat in the eggs one at a time and add lemon zest, beating constantly.
Sieve four and baking powder and fold into mixture.
Add pears to the batter mixture and place into a pre-buttered and floured 9-inch spring form cake tin.
Bake for 40 minutes. If required, bake for an additional 20 minutes.
ICE CREAM
Whisk egg yolks and maple syrup and maple sugar over warm water.
Beat until thick and pale, then remove from the heat and continue beating until cool.
Whisk the double cream until soft peaks are formed and then fold into the cool egg mixture.
Place in a shallow dish and freeze overnight.
Chef's tip
This dish is one that can be enjoyed all year round. Instead of the pears, use seasonal fruits such as cherries or peaches to add a touch of summer. Orchard or stone fruits are best. For the adventurous, add bacon to the ice cream to give it a savoury twist.
Perfect for a spot of afternoon tea decadence or for an impressive dessert, this indulgent yet light cake is exactly what you need this summer.
The Quebec Maple Syrup Producers are not in any way responsible for the identification or presence of allergens in recipes or for the classification of any recipe as vegetarian or vegan.
Hundreds of Delicious Recipes
Maple is a special addition to any recipe, from starters and snacks to sumptuous desserts. Find one that's perfect for you, your family and friends.