Raspberry Mille Feuille with Maple Custard
---
Summer / Desserts / Puddings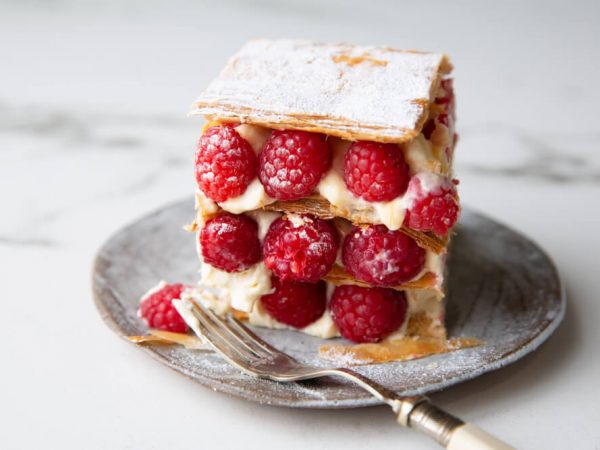 Ingredients
350g fresh raspberries (washed)
320g pre-rolled puff pastry
3 large eggs
1 egg yolk
25g maple sugar
100ml maple syrup (preferably golden colour for its delicate flavour)
200ml whole milk
20g plain flour
150ml double cream
Method
To make the pastry:
Pre-heat oven at 220C
Take the pastry out from the fridge and leave to rest for 10 mins
Place onto grease proof paper and onto a tray
Prick the top of the pastry with a fork in several places. Beat one of your eggs in a bowl and brush over the pastry
Place a second greased tray on top so the pastry in sandwiched in between
Bake for 10-12 minutes until crisp
Remove from the oven and whilst hot slice into four equal strips and leave to cool on a wire rack
To make the custard:
In a large bowl, add one whole egg and an extra egg yolk, sugar and maple syrup and mix until smooth
Sieve the flour then whisk into the mixture
Warm the milk in a pan on a gentle heat until simmering
Whisk the milk into the mixture until completely combined
Add everything back into the pan and whisk continuously until it becomes thick
Take off the heat and pour into a container
Cover with cling film and refrigerate
To assemble:
Whip the double cream and fold in the custard mixture
Layer the pastry sheets, custard and fruit on top each other and repeat until you have three layers, starting and ending with the pastry
Chef's tips: Once baked, handle the pastry sheets with care as they break easily. If one happens to break use this as the bottom slice. If you're short of time, the custard and pastry can be made a day before and assembled before serving.
The Quebec Maple Syrup Producers are not in any way responsible for the identification or presence of allergens in recipes or for the classification of any recipe as vegetarian or vegan.
Hundreds of Delicious Recipes
Maple is a special addition to any recipe, from starters and snacks to sumptuous desserts. Find one that's perfect for you, your family and friends.