Roasted tofu and cauliflower with maple korma sauce
---
One hour recipes / Vegan Mains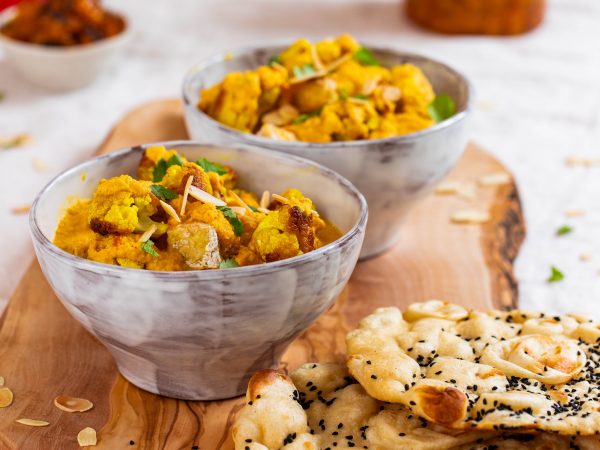 Ingredients
For the korma sauce:
60g blanched almonds
2 tbsp pure Canadian maple syrup
Salt and pepper to season
1 tbsp olive oil
1 white onion, diced
2 cloves garlic, crushed
Small piece fresh ginger, peeled and grated
1 green chilli, finely chopped
500ml water
2 fresh tomatoes, chopped
1 tbsp ground cardamom
1 tbsp ground coriander
1 tbsp ground cumin
1/2 tsp ground turmeric
For the tofu and cauliflower:
1 large cauliflower, divided into florets
Handful fresh coriander
Hard tofu, cut into chunks
1 tbsp pure Canadian maple syrup, for drizzling
Method
In a blender, add almonds, maple syrup, salt and pepper and blitz together until combined.
In a shallow pan, heat olive oil and gently fry the onion, garlic, green chilli and grated ginger until soft, taking care not to burn. Add to the blender and blitz for a further 30-60 seconds or until a smooth paste forms.
Pour the blender contents into a medium-sized saucepan, add water, stir and simmer on a low heat to warm through.
In a small frying pan, dry fry the ground cardamom, coriander, cumin and turmeric on a medium heat. Take care not to burn or scorch the spices, as they will taste bitter.
Add chopped tomatoes and stir, before cooking for 2-3 minutes.
Add the contents to the korma sauce and stir thoroughly.
On a baking tray, lay out cauliflower florets and tofu cubes, lightly drizzle over maple syrup, season with salt and pepper and oven roast for 20-25 minutes until light golden brown and cooked through.
Portion up cauliflower and tofu into serving bowls and add a ladle of korma sauce over the top. Garnish with chopped or torn fresh coriander and serve with freshly baked naan or chapatis.
Maximum flavour with minimal effort. A healthy homemade korma sauce with cauliflower and tofu, brought to life by the addition of Pure Canadian maple syrup
The Quebec Maple Syrup Producers are not in any way responsible for the identification or presence of allergens in recipes or for the classification of any recipe as vegetarian or vegan.
Hundreds of Delicious Recipes
Maple is a special addition to any recipe, from starters and snacks to sumptuous desserts. Find one that's perfect for you, your family and friends.