Salmon Wellington with Maple Basmati Rice
---
Mains / Fish and Seafood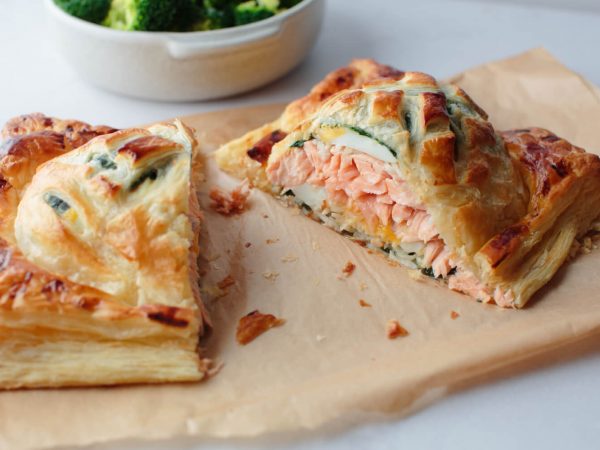 Ingredients
5 eggs
20g butter
2 tbsp pure Canadian maple syrup (preferably golden colour for its delicate flavour)
Salt and pepper, to taste
400g cooked rice
500g spinach
2 sheets of pastry, 24cm x 40cm
500g/half side of salmon
Method
Salmon
Hard-boil 4 eggs for 6 minutes and then refresh in iced water. Peel, slice and set aside.
Blanch spinach in salted boiling water for 10 seconds, refresh in iced water, then lay the leaves on a dry cloth on a tray to soak up the moisture.
For the salmon, preheat oven to 200ºC fan.
Melt butter in a frying pan, add the maple syrup and salmon, season and seal on each side.
Roll out the pastry into 2 rectangles (24cm x 40cm) and lay the first sheet of pastry on a baking tray lined with parchment paper.
Place a layer of cooked rice in the middle of the pastry sheet.
Lay the sealed salmon on top of the rice, leaving an edge of 2cm, and add a second layer of rice.
Next, add a layer of spinach and the sliced egg. Place the second sheet of pastry over the top, seal all edges and score with the back of a knife.
Brush with egg wash and bake for 10 minutes, then reduce heat to 180ºC fan and cook for a further 20-25 minutes.
Rest for 10 minutes then slice and serve.
Rice
For the fragrant rice, start by heating the butter (50g), cumin, coriander, maple syrup and cardamom in a large pan.
Cook for about 6 – 8 minutes until golden, then stir in the rice.
Add stock/ water, star anise, bay leaf and cinnamon, cover and cook.
When the rice is cooked, drain, set aside and leave to cool.
For convenience, the rice, eggs and spinach can be cooked the day before and refrigerated overnight.
To serve
Serve a generous slice of the salmon Wellington with a chive butter sauce or dill crème fraiche. The dish can be served warm or cold.
This show stopping dish is the perfect centrepiece for any garden party of celebratory get together. This dish is delicious served warm or cold.
The Quebec Maple Syrup Producers are not in any way responsible for the identification or presence of allergens in recipes or for the classification of any recipe as vegetarian or vegan.
Hundreds of Delicious Recipes
Maple is a special addition to any recipe, from starters and snacks to sumptuous desserts. Find one that's perfect for you, your family and friends.