A Cup of Tea and Cake's Summer Peach and Maple Skillet Crumble
---
Influencer / Bakes and Sweet Treats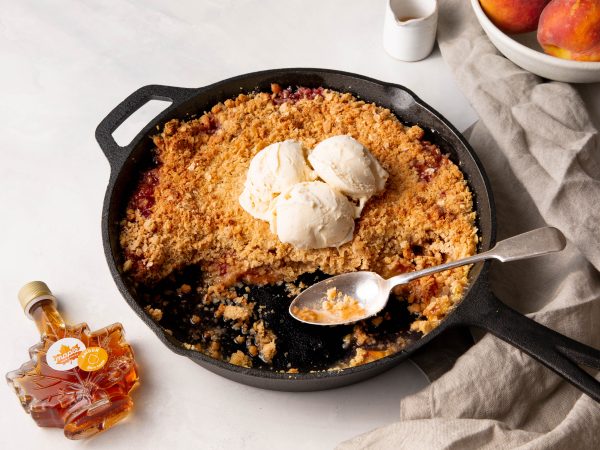 Ingredients
INGREDIENTS FOR THE PEACHES
1kg ripe peaches
150g maple sugar
2 tbsp pure Canadian maple syrup (preferably amber or dark)
INGREDIENTS FOR THE CRUMBLE
100g maple sugar
170g unsalted butter, cold and cubed
240g plain flour
90g oats
Method
Preheat the oven to 170C / 375F.
If using a ceramic baking dish, grease lightly with butter. If using a skillet, there's no need to prep the pan in advance as it's non-stick!
Begin by chopping the peaches into quarters and placing in a large bowl.
Add the sugar and maple syrup, then mix to combine.
In a separate bowl, add the butter and flour. Rub between your thumb and forefingers to create a rough consistency N.B. you still want chunks of cold butter for that signature craggy crumble topping.
Add the sugar and oats, then mix again until combined.
Scatter the crumble topping over the peaches and bake in the oven for 20-25 minutes, until bubbling and the top is golden brown.
Serve immediately with crème fraîche, ice cream, cream or custard.
If you're after a super easy summer recipe, this peach and maple pan crumble is your go-to. Quick and simple to make, it's the perfect dessert for a BBQ, garden party or simply to accompany a light, summer meal. If you like the look of this amazing crumble, then take a look at more of A Cup of Tea and Cake's recipes on their website.
The Quebec Maple Syrup Producers are not in any way responsible for the identification or presence of allergens in recipes or for the classification of any recipe as vegetarian or vegan.
Hundreds of Delicious Recipes
Maple is a special addition to any recipe, from starters and snacks to sumptuous desserts. Find one that's perfect for you, your family and friends.