WhiskMeFree's Vegan Maple and Vanilla Easter Cake
---
Cakes / Bakes and Sweet Treats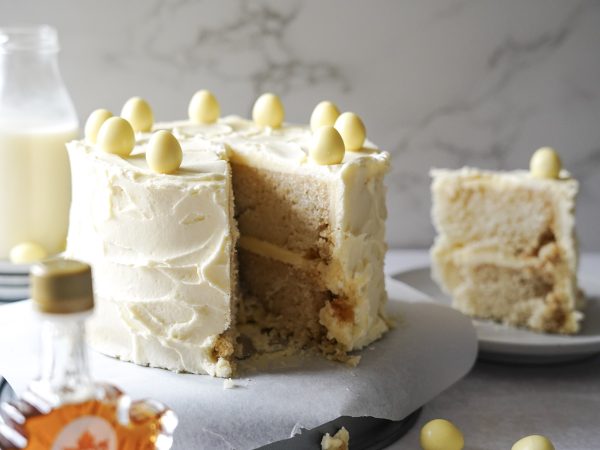 Ingredients
For the vegan cake
310 ml plant

–

based milk

 

1 tbsp  apple cider vinegar

 

olive oil

290g

maple

sugar

 

1 tsp xanthan gum

 

1 ½ tsp  baking powder

 

1 tsp  bicarbonate of soda

 

360g  gluten free flour

 

3 tbsp  golden maple syrup
For the vegan buttercream
200g  vegan butter

 

400g 

maple i

cing

s

ugar

 

1 tbsp maple syrup

3 tbsp  plant

–

based milk

 
For the decoration
Vegan white chocolate mini eggs
Method
To make the vegan cake
Preheat your oven to 180°c and grease and line your cake tins with grease proof paper. Set aside while you make the batter.

 

Start by combining the plant

–

based milk and vinegar together to make your 'buttermilk'. Let this stand for 5-10 mins.

 

In a separate bowl mix together your flour, Xanthan gum, baking powder, bicarbonate of soda and sugar. Making sure there's no lumps.

 

Then add the oil into the buttermilk and pour into the dry ingredients. 

 

Once combined pour in the maple syrup and whisk into the batter.

 

Evenly distribute the batter into your cake tins and bake for 40-60 mins. The sponge should be golden in colour and springy to the touch. 

 
To make the vegan buttercream
As the cake cools begin making the vegan buttercream. For this begin creaming your vegan butter until pale then add the icing sugar and beat together for 3-5mins.

 

Add the milk and maple syrup and beat for a further 2mins until pale and fluffy.

 
To assemble the cake
If your sponges are not level, level the tops of the cakes first before layering to prevent your cake being lopsided. You can use a special cake leveller for this or just a serrated knife.

 

Once the cakes are levelled. We will start with a crumb coat. This is when we cover the cake in buttercream just to seal any gaps and lock in all the crumbs to prevent them being scattered across the cake.

 

To begin first spread a generous amount the vegan buttercream on top of the first cake layer. Then top with the 2nd cake layer face down. And spread the vegan buttercream across the

the

top and sides of the cake

,

m

aking sure it

'

s completely covered.

 

Place the cake in the fridge for 30mins – 1hr until set [it will be 'set' when you touch the buttercream and no buttercream sticks to your finger]

 

It is now time for our final coat. For this will be covering the entire cake in a second layer of the vegan buttercream.

 

Once the cake is covered, go around the cake with an offset spatula or spoon and create little swirls and rustic flicks in the buttercream.

 

Finally decorate with white chocolate mini eggs across the top of the cake to create a boarder. Perfect.

 

It's now time to show off this

masterpiece

to your guests and enjoy this

E

aster with your friends and family.

 
If you like the look of this vegan cake recipe, take a look at more of WhiskMeFree's recipes on their Instagram here.
The Quebec Maple Syrup Producers are not in any way responsible for the identification or presence of allergens in recipes or for the classification of any recipe as vegetarian or vegan.
Hundreds of Delicious Recipes
Maple is a special addition to any recipe, from starters and snacks to sumptuous desserts. Find one that's perfect for you, your family and friends.