WhiskMeFree's Maple Jubilee Cupcakes
---
Bakes and Sweet Treats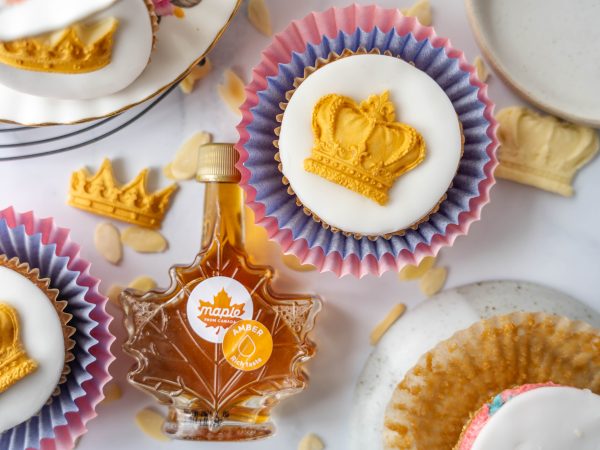 Ingredients
For the cupcakes
250g maple sugar

 

30g almond flour

 

180g gluten-free flour

 

1 tsp xanthan gum

 

1 tsp baking powder

 

1 tsp bicarbonate of soda

 

1 tbsp apple cider vinegar

 

180 ml plant-based milk

 

1/2 tsp almond extract

 

1 tbsp maple syrup – preferably amber

 

130g apple sauce

 

60 ml vegetable oil

 
For the decoration
150g fondant

 

100g vegan white chocolate

 

edible gold paint

 
Method
To make the cupcakes
Preheat the oven to 180°c and line your cupcake tin. 

 

Combine the milk and apple cider vinegar in a glass/bowl and leave aside while you make the batter.

 

Mix together

the sugar, flours, xanthan gum and raising agents into a large bowl until fully combined.

 

Add the oil, almond extract, maple syrup and applesauce to the milk mix, then pour into the dry ingredients. Whisk until combined.

 

Evenly distribute the batter into the cupcake cases and bake for 20-25mins. When it's baked a skewer should come out clean and the sponge should be springy to the touch.

 
To make the decorations
As the cupcakes cool, start making the decorations. Begin by rolling out the fondant until 2mm thick and cut out a circle using a cookie cutter – the cookie cutter should be the same diameter as your cupcakes.

 

Place the fondant circles onto the centre of the cupcakes, making sure the tops are fully covered.

 

Melt your vegan white chocolate for 30 second intervals in a microwave making sure to stir in between intervals.

 

Pour the chocolate into your crown moulds and set in the fridge for around 10 mins.

 

Once set, pop the chocolates out of the

moulds

carefully and paint them with edible gold paint.

 

Brush on a little white chocolate to the back of the crowns and stick onto the fondant circles.

 

They are now ready to bring to your jubilee street parties!

 
If you like the look of these soft almond infused sponges topped with edible gold crowns, then take a look at more of WhiskMeFree's recipes over on their blog. 
The Quebec Maple Syrup Producers are not in any way responsible for the identification or presence of allergens in recipes or for the classification of any recipe as vegetarian or vegan.
Hundreds of Delicious Recipes
Maple is a special addition to any recipe, from starters and snacks to sumptuous desserts. Find one that's perfect for you, your family and friends.