Bringing the magic of maple products to Abergavenny Food Festival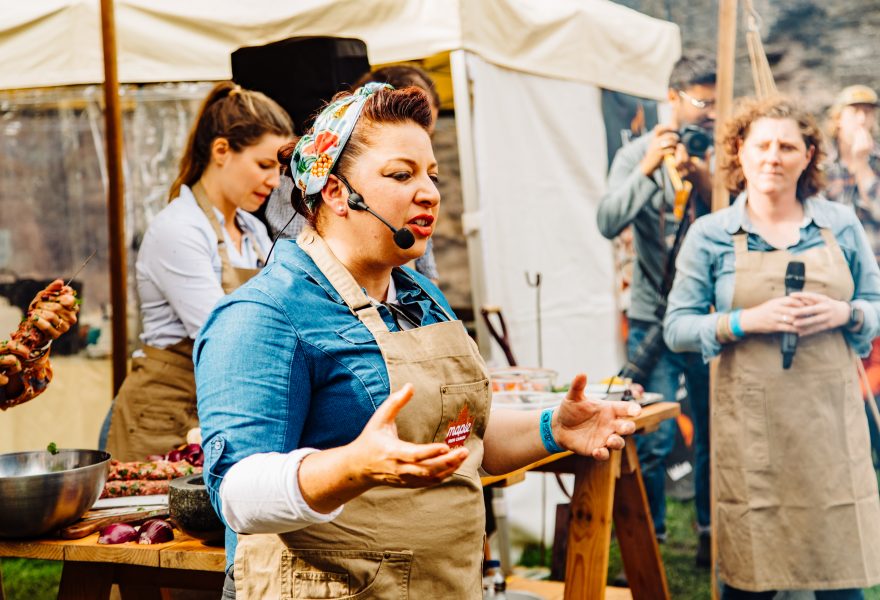 ---
Maple from Canada, which represents more than 13,300 maple syrup producers in Québec, will be sponsoring Abergavenny Food Festival this September – bringing a line-up of culinary stars to the event.
Five of Maple from Canada's UK ambassadors will appear at the festival, cooking over fire with maple products at the centre of their dishes.
The live demonstration, which will take place at The Castle on Sunday 21 September, is being compered by Welsh barbecue gurus and Maple from Canada ambassadors Samantha Evans and Shauna Guinn, of the award-winning Hang Fire Southern Kitchen. The duo, who first cooked live at the festival in 2015, present their own show on BBC Wales.
Fellow ambassadors James Golding, of the Royal Academy of Culinary Arts (RACA); author, food stylist and blogger Georgina Hayden, and Great British Bake Off star Manon Lagrève are preparing a feast over fire, showing festival-goers the versatility of pure Canadian maple syrup.
The ambassadors have been brought on board to inspire people to make maple syrup a staple store-cupboard ingredient. Each chef has created delicious recipes incorporating the product that can be recreated at home.
As part of the sponsorship of the Festival, Maple from Canada UK has its own stall opposite the dome stage where they are sampling maple syrup pies, a classic Canadian treat. The team will also be sharing the secret of how Canada's most iconic export is made, along with seasonal cooking inspiration.
In March 2019, the ambassadors were invited to Montréal to meet a number of maple producers, see the tapping process first-hand, try maple products and experience the Québec maple culture.
While the sugar shacks of Québec are a little further afield than most of the festival's other exhibitors, Maple from Canada chimes with Abergavenny Food Festival's values of supporting producers and promoting a deeper understanding of how products are made. The traditional glass bottles of maple syrup encourage visitors and stallholders to reduce the use of single-use plastic across the festival weekend.
Mylène Denicolaï, promotion co-ordinator for Maple from Canada said: "We're proud to be partnering with Abergavenny Food Festival, and our ambassadors are all excited to share their love for pure Canadian maple syrup with Abergavenny.
"The festival is the perfect platform for us to show people the quality of maple syrup as a product. A lot of passion goes into making every drop of syrup, which is why we want to make sure all of our producers get the recognition they deserve for all of the hard work and love they put in to making this golden elixir."
Samantha Evans and Shauna Guinn, co-founders of Hang Fire Southern Kitchen, added: "We've been attending Abergavenny Food Festival for six years and each year is better than the last. It's a festival built on really strong principles and as well as being a celebration of delicious food, it encourages us all to think deeper about what we eat and the people behind our vibrant culinary scene.
"This Sunday, we're bringing a taste of Canada to the festival and look forward to teaming up with three extremely talented chefs. We all love cooking with maple and want to show people what a diverse and quality ingredient it is."
A natural source of energy
Maple syrup is a natural source of energy. Check out our recipes for food and drinks before, during, and after exercise.