Classic Dundee Cake with Maple
---
Cakes / Christmas / Desserts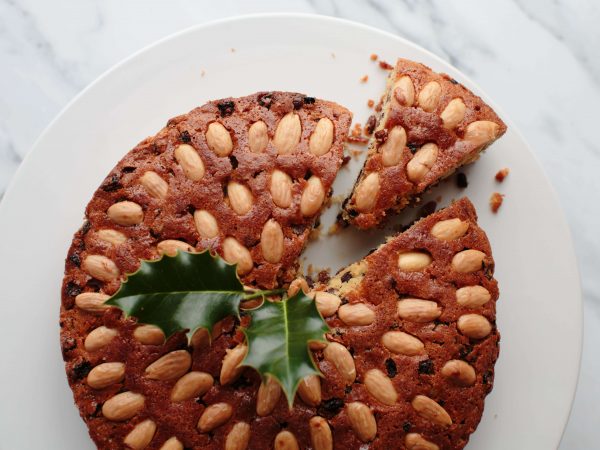 Ingredients
175g softened butter
175g maple sugar
3 eggs
225g self-raising flour
25g ground almonds
1tsp ground mixed spice
400g mixed dried fruits
75g halved glace cherries
2tbsp milk
3tbsp pure Canadian maple syrup (preferably dark syrup for its robust taste)
40 blanched whole almonds
Method
Preheat the oven to 150C
Grease and line a loose based 20cm cake tin
Beat the butter and the sugar for 3-4 mins until light and fluffy
Stir in 2tbsp of maple syrup
Beat the eggs and gradually add into the mixture
Add the flour, ground almonds and the mixed spice
Stir in the mixed dried fruits and cherries
Add the milk and stir until combined
Spoon the mixture into the cake tin and neatly arrange the blanched almonds on the top
Bake for 1.5-2 hours
Test that it's cooked through by inserting a skewer into the centre, if it comes out clean then it's done
Leave the cake to cool and then remove it from the tin and peel off the grease-proof paper
Drizzle with the remaining maple syrup
Store in a cake tin and eat within 5 days
This festive treat will make a delightful dessert for any dinner party. A maple take on a delicious classic, packed with dried fruit, cherries and almonds.
The Quebec Maple Syrup Producers are not in any way responsible for the identification or presence of allergens in recipes or for the classification of any recipe as vegetarian or vegan.
Hundreds of Delicious Recipes
Maple is a special addition to any recipe, from starters and snacks to sumptuous desserts. Find one that's perfect for you, your family and friends.