Jerusalem artichoke, kale and maple glazed turkey
---
Mains / Christmas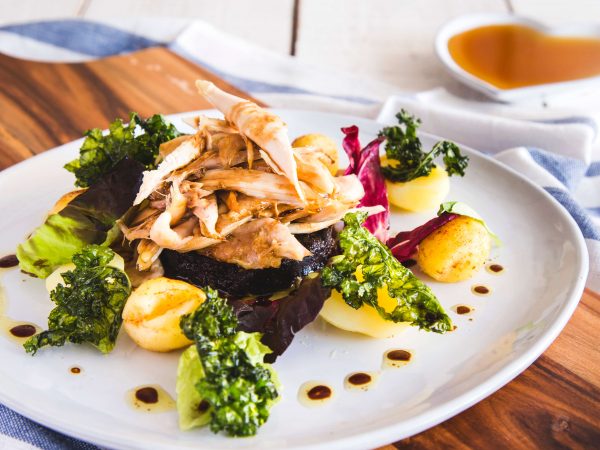 Ingredients
1kg Jerusalem artichokes
300g black pudding
500g kale
350g cooked turkey (or chicken)
50g frisèe lettuce
50g lambs lettuce
50g red chard
50g butter
300g Ratte potatoes
3 tbsp pure maple syrup
1 tbsp Pommery mustard
1 tbsp soy
Olive oil
Method
Scrub the artichokes clean and slice at an angle.
Do the same with the potatoes and the black pudding.
Slice the black pudding and pan fry.
Wash all lettuce and kale.
Dry the kale and deep fry a third of it aside to garnish.
Parboil the potatoes for 8-10 minutes, place in ice water. Set aside.
Peel the artichokes then pan fry with the potatoes in olive oil, until cooked through.
Blanche rest of the kale in boiling salted water.
Slice the cooked turkey into thin strips.
Reheat in butter adding the mustard, maple syrup and soy sauce.
Keep warm.
To serve
Freely arrange all the ingredients on a platter with the maple glazed turkey.
Finish with crispy kale and a drizzle of maple syrup.
Chef's tip
Add poached eggs to the salad to make it even more delicious.
A warming, winter salad, bursting with goodness from artichoke and kale. It's a great way of using up turkey from a Christmas roast, but also works well with chicken at any time of the year.
The Quebec Maple Syrup Producers are not in any way responsible for the identification or presence of allergens in recipes or for the classification of any recipe as vegetarian or vegan.
Hundreds of Delicious Recipes
Maple is a special addition to any recipe, from starters and snacks to sumptuous desserts. Find one that's perfect for you, your family and friends.