Maple Mango Chutney
---
Sides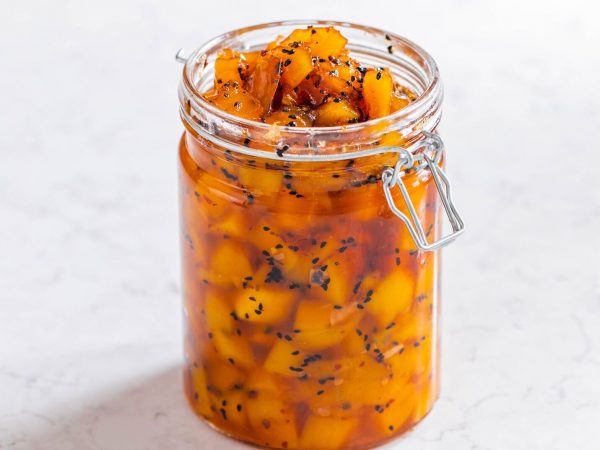 Ingredients
Ingredients
2kg of mangoes, peeled, stoned and cut into chunks
300g granulated sugar
500ml white wine vinegar
Dry spice mix
1tsp ground cumin
1tsp ground coriander
1tsp ground cardamom
4tbsps pure maple syrup (preferably amber syrup for its rich taste)
2tsp nigella seeds
Small piece of fresh ginger, peeled and grated
1 red chilli, deseeded and finely chopped
2 cloves of garlic
1tsp salt
Method
Method:
In a medium sized saucepan, add white wine vinegar, sugar and bring to a gentle boil for about 25 minutes. The liquid volume should have reduced by around an inch.
In a small shallow pan lightly toast the dry spices together for 3-4 minutes then add this to the pan with the reduced sugar and vinegar, along with the chopped mangoes, maple syrup and nigella seeds. Add the grated ginger, garlic and salt. Stir together and gently simmer for an hour until the consistency is thick, syrupy and glossy.
Divide into sterilised jars and seal with sterilised lids and wax paper for freshness. Keep for up to 6 months and eat within a few weeks once opened.
Generous chunks of mango are delicately sweetened with maple syrup and enhanced with toasted Asian spices. A great accompaniment to cold meats, cheeses or as a dipping side to serve with poppadums and a delicious warming curry.
The Quebec Maple Syrup Producers are not in any way responsible for the identification or presence of allergens in recipes or for the classification of any recipe as vegetarian or vegan.
Hundreds of Delicious Recipes
Maple is a special addition to any recipe, from starters and snacks to sumptuous desserts. Find one that's perfect for you, your family and friends.