Maple-Roasted Carrots, Burrata and Pistachio Pesto
---
Vegetarian Mains / Starters / Summer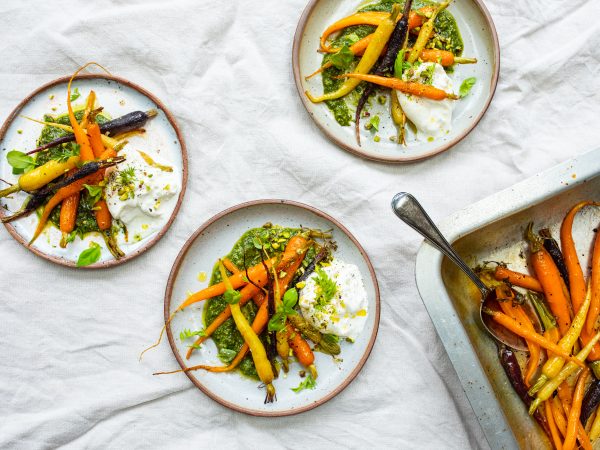 Ingredients
800g mixed carrots (different colours and small to medium in size – leafy green tops attached if possible)
125ml extra virgin olive oil
Sea salt and freshly ground black pepper
1 lemon
2 tbsp pure maple syrup (preferably amber syrup for its rich taste)
50g fresh basil
2 garlic cloves
80g parmesan
60g pistachios
200g burrata
Method
Preheat your oven to 220C.
Trim the carrots so that a little of the leafy stalks are still attached. Cut them into even sizes if you are using a mixture like me, halving length ways any fatter carrots and leaving any smaller, thin ones whole.
Place in a large roasting tray and toss in a little olive oil. Season well, squeeze over the lemon juice and drizzle with the maple.
Place the tray in the oven and roast for around 23 – 25 minutes, tossing once or twice, until slightly charred and just cooked through.
Meanwhile thoroughly wash a handful of the reserved carrot tops (they are usually a little gritty so make sure the water runs clear) and place in a food processor with the basil leaves.
Peel and roughly chop the garlic and add to the bowl along with the pistachios. Grate in the parmesan, season well and blitz until everything is finely chopped. Slowly pour 100ml of the extra virgin olive oil with the motor still running, until you have a thick vibrant pesto. Add a little more oil if it is too thick.
When the carrots are ready spoon a couple of tablespoons of the pesto onto a serving platter then arrange the carrots on top. Tear over the burrata, then finish with a spoonful of the pesto over the top (any leftover pesto will keep in the fridge for a few days).
Scatter over any remaining carrot and basil leaves and serve straight away.
The Quebec Maple Syrup Producers are not in any way responsible for the identification or presence of allergens in recipes or for the classification of any recipe as vegetarian or vegan.
Hundreds of Delicious Recipes
Maple is a special addition to any recipe, from starters and snacks to sumptuous desserts. Find one that's perfect for you, your family and friends.