That Health Junkie's maple and pumpkin crumb bars
---
Influencer / Bakes and Sweet Treats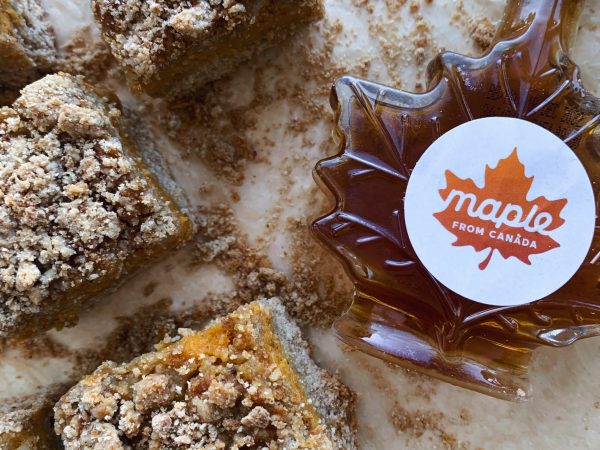 Ingredients
Ingredients for the crust:
80ml of pure Canadian maple syrup (preferably amber for its rich taste)
55 g ghee or butter
125 g oat flour
6 tbsp coconut flour
1 tsp pumpkin spice
½ tsp baking soda
¼ tsp salt
Ingredients for the pumpkin filling:
80 ml pure Canadian maple syrup (preferably amber for its rich taste)
1 can pumpkin purée
125 ml coconut yogurt
1 tsp vanilla extract
1 medium egg
1 egg yoke
¼ tsp salt
Method
Preheat the oven to 180°C/ 350°F (160°C fan) and line an 8-inch square tray (or equivalent) with parchment paper and set aside.
To make the crust, mix the maple syrup and ghee in a mixing bowl. Add the oat flour, coconut flour, pumpkin spice, baking soda and salt. Mix until well combined, the texture should be slightly sticky, yet slightly crumbly dough.
Place the bowl in the fridge to chill for at least 20 minutes to allow it to firm up. The dough needs to be of a crumbly consistency. If it isn't, allow it to chill a little longer.
For the pumpkin filling, whisk the maple syrup, pumpkin purée, coconut yogurt and vanilla extract together. Add the eggs and salt and whisk again until well combined.
Press two-thirds of the mixture into the base of the tray. Pour in the pumpkin filling and spread evenly, then crumble the rest of the oats on top.
Bake in the oven for 55-65 minutes or until the top is golden brown. Let the bars cool completely in the tray before slicing.
These pumpkin crumb bars are crumbly and have a delicious buttery crust. Sweetened with pure Canadian maple syrup for a natural touch of sweetness. They are lightly spiced for an
Autumnal sweet treat.
The Quebec Maple Syrup Producers are not in any way responsible for the identification or presence of allergens in recipes or for the classification of any recipe as vegetarian or vegan.
Hundreds of Delicious Recipes
Maple is a special addition to any recipe, from starters and snacks to sumptuous desserts. Find one that's perfect for you, your family and friends.