Ultimate Maple Christmas Sandwich
---
Mains / Christmas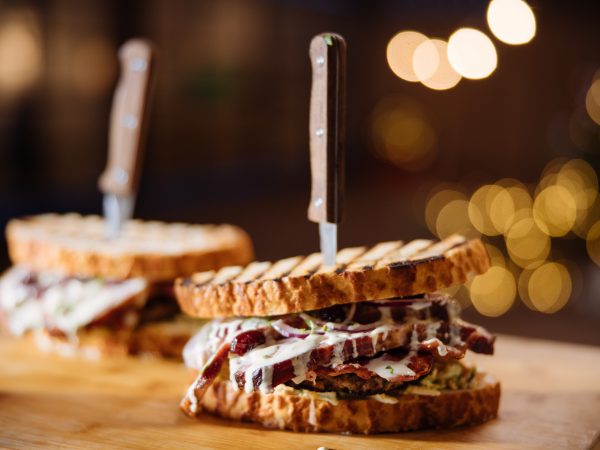 Ingredients
8 slices of bread (tiger bread or sourdough work well)
8 slices of thick cut, streaky bacon
4 tbsp of pure Canadian maple syrup (preferably amber syrup for its rich taste)
8 slices of cooked Maple Glazed Turkey
4 tbsp cranberry sauce
4 slices of American cheese (or a cheese of your choice)
1 small red onion, thinly sliced into rings
FOR THE PORK STUFFING SMASH BURGERS
400g sausage stuffing meat
1 Granny Smith apple, peeled, cored and finely diced
6 shallots, finely diced
1 tsp thyme leaves (fresh or dried)
1 tsp pure Canadian maple syrup (preferably amber syrup for its rich taste)
1 tsp cracked black pepper
1/2 tsp fine salt
FOR THE SPROUT SLAW
200g raw sprouts, peeled and finely sliced
100g celeriac, peeled and cut into matchsticks
1 small carrot, peeled and grated
Small bunch of flat leaf parsley, finely chopped (reserve a handful to garnish)
1 tbsp lemon juice
Pinch of fine sea salt
75ml sour cream
74ml mayonnaise
1 tbsp Dijon mustard
2 tbsp maple vinegar
2 tbsp olive oil
1 tbsp pure Canadian maple syrup (preferably amber syrup for its rich taste)
Salt and pepper to tast
Method
FOR THE SPROUT SLAW
Finely slice or pulse your sprouts in a food processor, then tip into a mixing bowl with the celeriac and carrot.
Add the lemon juice, parsley and salt and mix well.
Pop it in the fridge for 20 minutes. In the meantime, whisk the remaining ingredients together, pour half over the vegetables and reserve the other half.
Mix the dressing into the slaw and pop back in the fridge.
The further in advance you can make this, the better. It'll keep for up to three days refrigerated.
FOR THE PORK SMASH BURGERS
Add all ingredients to a bowl and mix well, we find it better to get your clean hands in there and give it all a good squish so the ingredients are well combined.
Shape into 8 meatballs.
Place a frying pan, or a cast iron flat plate, directly over your BBQ grill and heat until very hot. A searing heat is really important to cook your burgers quickly.
Next, brush a little olive oil onto the top and bottom of your meatballs. Place a meatball into the pan or onto the flat plate. You can use a flat spatula or anything heavy to press down on the burger firmly and quickly to make it very flat and thin.
Do not move the burger, allow to cook for around 1-2 minutes before flipping over to cook for another 1-2 minutes.
Remove from the pan, place your cheese on top and set aside. Repeat with the remaining meatballs.
TO ASSEMBLE
Brush some melted butter or a little olive oil onto one side on your bread slices. If you have a griddle pan, toast the bread on one side for some pretty cool looking griddle marks.
As your pork smash burgers are cooking, put a few bacon rashers on to cook too. Make sure you cook them nice and crispy. Drain them on a paper towel, then transfer to a plate and brush with maple syrup.
On the bottom piece of toast, pile on the sprout slaw, followed by the cheese topped pork stuffing smash burger, then a couple of slices of the maple bacon and the sliced turkey.
Finally drizzle more of the slaw dressing over the top, followed by a tablespoon of chopped parsley. Spoon a couple of tablespoons of cranberry sauce on the lid of the sandwich and squash closed. For dramatic effect, you can spike a steak knife through the centre to serve.
Make the most of your festive leftovers with this deliciously indulgent Christmas sandwich recipe. With a supporting cast of streaky bacon and sausage stuffing, this turkey sandwich is a meat lover's delight.
The Quebec Maple Syrup Producers are not in any way responsible for the identification or presence of allergens in recipes or for the classification of any recipe as vegetarian or vegan.
Hundreds of Delicious Recipes
Maple is a special addition to any recipe, from starters and snacks to sumptuous desserts. Find one that's perfect for you, your family and friends.