Christmas Maple Gravy
---
Christmas / Sides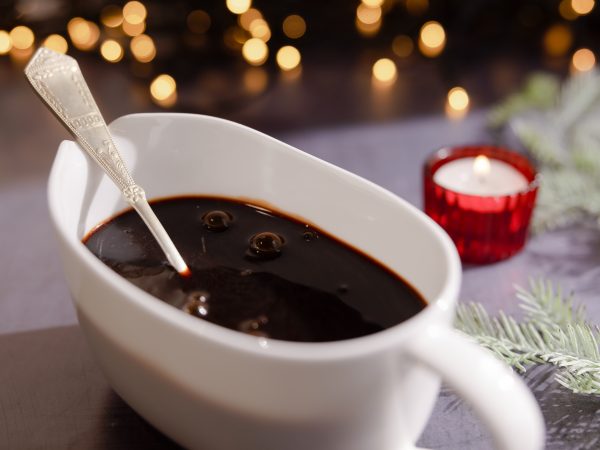 Ingredients
2 turkey legs

2 carrots, roughly chopped

1 onion, roughly chopped

2 sticks of celery, roughly chopped

2 bay leaves

4 cloves of garlic, skin on

200ml maple syrup (preferably dark syrup for its robust taste)

A few sprigs of fresh thyme and rosemary

2 litres boiling water, plus 4 tbsp tap water

2 tbsp cornflour
Method
Pre-heat oven to 220 degrees C. Place turkey legs, carrots, onion, celery, bay leaves, garlic, thyme and rosemary in a roasting pan, coat in oil, salt and pepper and put in oven for 20 minutes.

Add the maple syrup and stir, turn the turkey legs and give everything a shake. Roast for another 30 minutes or until the legs are golden brown.

Remove the pan from the oven and add two litres of boiling water to unstick anything from the bottom. Pass everything through a sieve into a saucepan and bring to the boil.

In a cup, mix cornflour and the tablespoons of water until it forms a paste. Add to the saucepan of stock and stir continuously until the sauce thickens and becomes gravy.
Christmas isn't Christmas without a gorgeously smooth maple gravy to douse all of the lovingly prepared food on the day.
Find more Christmas recipes in our free 'A Very Maple Christmas' cookbook here.
The Quebec Maple Syrup Producers are not in any way responsible for the identification or presence of allergens in recipes or for the classification of any recipe as vegetarian or vegan.
Hundreds of Delicious Recipes
Maple is a special addition to any recipe, from starters and snacks to sumptuous desserts. Find one that's perfect for you, your family and friends.