Maple, Bacon, Pecan and Bourbon Brioche Swirl
---
Breakfast and Brunch / Sweet Treats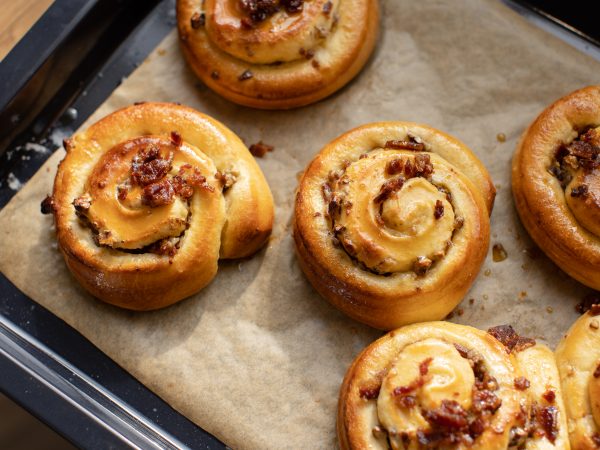 Ingredients
For the brioche
500g T65 flour
6 large eggs
50g maple sugar
20g fresh yeast or 8g instant dry yeast
250g butter
10g salt
30ml bourbon
For the filling
250ml milk
15g caster sugar
2 egg yolks (small)
20g cornflour
200ml maple syrup (preferably golden colour for its delicate flavour)
50ml bourbon
200g pecan nut halves
250g smoked streaky bacon
For the maple glaze
200ml maple syrup (preferably dark syrup for its robust taste)
30ml bourbon
Method
To make the brioche
Add all the ingredients apart from the butter to a stand mixer bowl and mix at 1st speed for 5 minutes.
Add the butter then mix on 2nd speed for 15 minutes.
Remove the dough from the bowl, wrap in cling film and leave to rest in the fridge overnight
To make the filling
Preheat your oven to 180˚c.
Lay the streaky bacon on tray covered with greaseproof paper and brush with a little of the golden maple syrup.
Cook for 15-18 minutes or until it is golden brown then set aside to cool.
For the roasted pecan nuts mix the nuts with 110ml of the golden maple syrup then roast them in the oven at 150˚c for about 15 minutes.
Leave them to cool them roughly chop them.
For the crème patissière mix the sugar with the egg yolks well then gently add the cornflour and the rest of the maple syrup.
In a small saucepan bring the milk to boil then add the egg mix, stirring well to avoid it sticking.
Lower the heat and simmer gently for 3 minutes.
Pour the mix into a flat container and cover with cling film. Make sure the cling film is touching the mix to avoid a skin forming.
Leave it to cool.
To assemble
Roll the brioche dough into a rectangle about 5-7mm thick, it should be a bit bigger than an A4 sheet of paper.
Chop the bacon finely, then mix it with the crème patissière and the bourbon.
Spread the cream onto the brioche evenly then sprinkle the pecans on top.
Roll the pastry tightly lengthways.
Cut the roll into slices, about 2cm thick.
Lay the swirls on a baking tray, lined with greaseproof paper and cover with cling film.
Leave the swirls to prove at room temperature (or if possible, somewhere around 27-30˚c) for about 1 hour or until the dough has doubled in size.
Meanwhile preheat your oven to 170˚c and make the glaze by mixing together the maple syrup and bourbon.
Bake the swirls for 18-20 minutes until golden brown, then brush on the glaze as soon as they come out the oven.
Chef's tip: Once you have cut your dough roll into swirls, you can freeze some for cooking later.
The Quebec Maple Syrup Producers are not in any way responsible for the identification or presence of allergens in recipes or for the classification of any recipe as vegetarian or vegan.
Hundreds of Delicious Recipes
Maple is a special addition to any recipe, from starters and snacks to sumptuous desserts. Find one that's perfect for you, your family and friends.