Poppy Loves' Maple Gingerbread Biscuits with Orange and Cinnamon Icing
---
Sweet Treats / Christmas / Christmas / Influencer / Snacks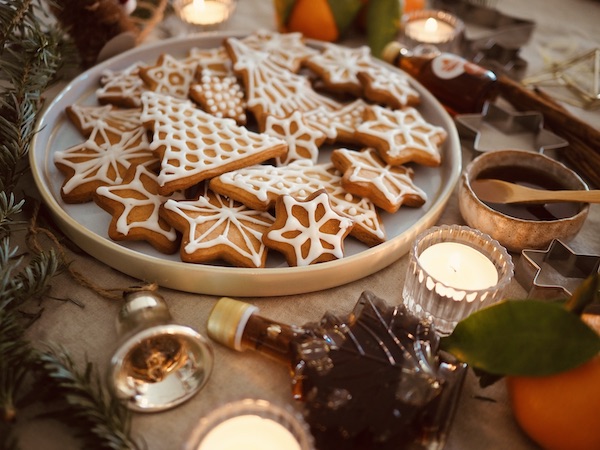 Ingredients
FOR THE GINGERBREAD BISCUITS
125g unsalted butter
65g pure Canadian maple syrup (preferably golden colour for its delicate flavour)
1/2 tsp bicarbonate of soda
1 tsp ground cinnamon
2 tsp ground ginger
300g plain flour
100g maple sugar
FOR THE ICING
200g maple sugar
3 tbsp orange juice
1/2 tsp ground cinnamon
Method
TO MAKE THE GINGERBREAD BISCUITS
Preheat the oven at 180°C. Melt the butter, sugar and maple syrup in a pan.
Mix the flour, bicarbonate of soda, ground ginger and cinnamon in a separate bowl.
Make a well in the flour mixture and pour in the melted butter and sugar mixture.
Use your hands to make a dough.
Roll out your dough between two sheets of baking paper, to the thickness of a £1 coin.
Cut out your biscuit shapes and bake for 10-12 mins.
TO MAKE THE ICING
Mix the sugar with the cinnamon and add the orange juice. You may find you need a little more liquid, in which case add a few drops of orange juice at a time.
Pipe your biscuits when they're cold and store in an airtight container.
The Quebec Maple Syrup Producers are not in any way responsible for the identification or presence of allergens in recipes or for the classification of any recipe as vegetarian or vegan.
Hundreds of Delicious Recipes
Maple is a special addition to any recipe, from starters and snacks to sumptuous desserts. Find one that's perfect for you, your family and friends.