Toulouse Sausage with Maple-Glazed Onions and Lentils
---
Pork / 30 minute meals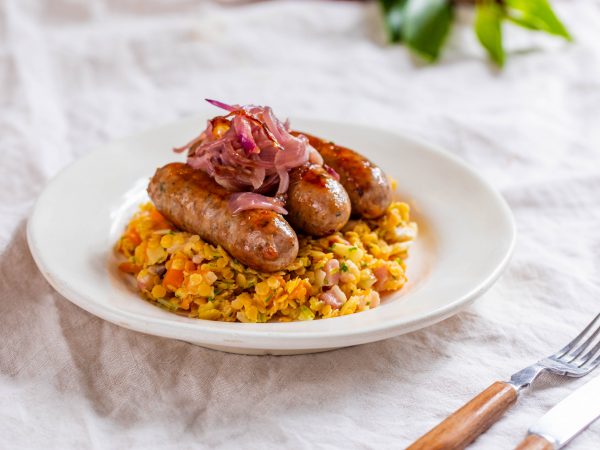 Ingredients
4 Toulouse sausages
200g red onion, finely sliced
2 tbsp pure maple syrup (preferably amber syrup for its rich taste)
40g butter
Fresh thyme
300g tin of pre-cooked lentils
1 large carrot, finely diced
1 small leek, finely diced
1 small onion, finely diced
1 clove garlic, crushed
40g pancetta
Salt and pepper, to season
100ml water
40g Dijon mustard
Handful fresh parsley
Method
For the Toulouse sausages and maple-glazed onions:
Preheat your oven to 200C.
In a frying pan, melt butter and gently cook onions, adding the maple syrup slowly. Add sprigs of thyme to flavour and reduce the heat to keep warm.
In a separate pan, seal the sausages and colour on all sides. Once they are nicely browned, place into the oven for 8-10 minutes.
When cooked, set aside to rest before serving.
For the braised lentils:
In a heavy-bottomed pan, sweat the carrots, onion and garlic for about 3 minutes. When soft, add the leek and pancetta. Cook together until the pancetta is crispy.
Add lentils and water and season with salt and pepper.
Cover with a lid and bring to the boil, then lower the heat to a simmer and take off the lid, cooking for a further 10 minutes or until the remaining liquid has reduced.
Just before serving, add the mustard and parsley and stir through.
Serve in shallow bowls with the Toulouse sausages and maple-glazed onions.
Tasty and filling, this classic hearty dish is a real family pleaser.
The Quebec Maple Syrup Producers are not in any way responsible for the identification or presence of allergens in recipes or for the classification of any recipe as vegetarian or vegan.
Hundreds of Delicious Recipes
Maple is a special addition to any recipe, from starters and snacks to sumptuous desserts. Find one that's perfect for you, your family and friends.