Celebrate Canada Day and win a BBQ masterclass with chef ambassador, David Colcombe. 
Traditionally, Canada Day is celebrated with parades, fireworks and of course, a good old backyard BBQ. From 1st July, we're inviting you to show off your grilling skills and throw your very own backyard BBQ. Take some great photos, upload them to Instagram before 12th July and tag @maplecanadauk @hangfirebbq and #MapleBackyardBBQ for the chance to win.
Competition entries will be judged by Sam and Shauna and the winner will be announced on Maple from Canada's Instagram. Prizes include a BBQ cooking masterclass with Maple from Canada's UK brand ambassador Chef David Colcombe and copies of the Hang Fire cookbook and the brand new maple cookbook Cooking with maple, naturally. Over to Sam and Shauna to explain how to enter and share a few of their expert BBQ tips…
---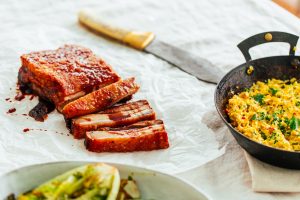 Enter our competition
Don't forget to take some great photos of your BBQ and and post a picture on Instagram by Sunday 12th July. Make sure to tag @maplecanadauk and @hangfirebbq and use the hashtag #MapleBackyardBBQ. We'll choose our first, second and third prize winners after entries close on 12th July.
Read the full terms and conditions for the competition here.
---
Download our BBQ toolkit
We've put together the ultimate backyard BBQ toolkit to help you celebrate Canada Day in style. You'll find printable bunting, amazing BBQ menu ideas, top grilling tips and a brief history lesson on the origins of Canada Day.
---
Raise a glass to Canada
Make our signature Canada Day cocktail, the Maple Spritz, and raise a glass to Canada on 1st July. Easy to make and infused with the sweetness of maple syrup, this cocktail is summer in a glass.