Berry and Maple Pavlova
---
Desserts / Child-friendly / Summer / Sweet Treats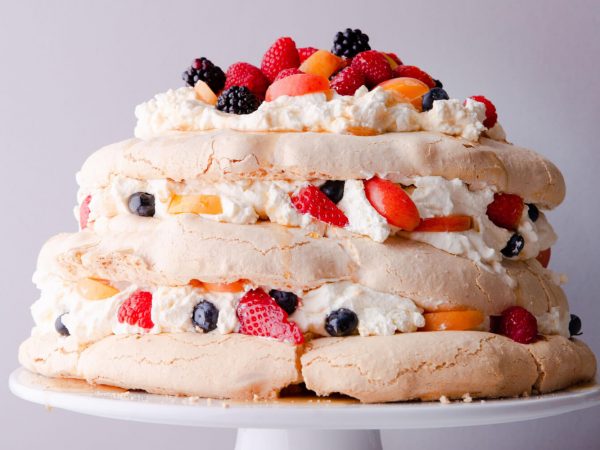 Ingredients
For the pavlova:
4 egg whites
250g maple sugar
1 tsp white wine vinegar
1 tsp cornflour
1 tsp vanilla extract
1 litre whipping cream
500g strawberries, washed, stalks removed and quartered
300g blackberries, washed and halved
300g blueberries, washed
300g apricots, stoned and quartered
120g pure maple syrup, plus extra for drizzling (preferably golden colour for its delicate taste)
Method
Preheat the oven to 150°C/Gas 2. On a baking paper, draw around your serving plate in pencil to mark the shape for your meringue
Using a hand-held mixer, whisk the egg whites together until they form stiff peaks. Then add maple sugar a tablespoon at a time until the appearance is glossy and smooth
Whisk in the vinegar, cornflour and vanilla extract. Pour the mixture onto the baking paper and keep within the drawn circle
Spread out using a palette knife creating a dip in the centre. Keep sides slightly higher than the middle
Transfer onto a tray and bake in the oven for 1 hour
Turn off the heat and allow the meringue to completely cool whilst in the oven. For additional layers, repeat the process
Once all the meringue layers have thoroughly cooled, whisk together the cream and maple syrup in a bowl to form soft peaks and spread between each layer of meringue topped with a mixture of prepared fruits and drizzled with maple syrup
An irresistible dessert with a crunchy, sweet outside and a moreish chewy inside, wonderful with seasonal berries.
The Quebec Maple Syrup Producers are not in any way responsible for the identification or presence of allergens in recipes or for the classification of any recipe as vegetarian or vegan.
Hundreds of Delicious Recipes
Maple is a special addition to any recipe, from starters and snacks to sumptuous desserts. Find one that's perfect for you, your family and friends.