Harissa and Maple BBQ Chicken Thighs
---
BBQ / Chicken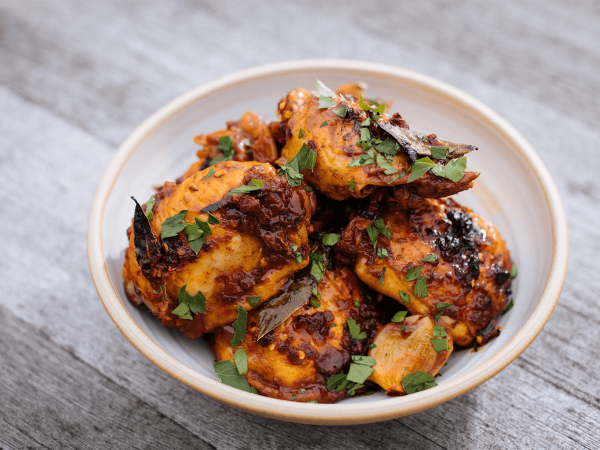 Ingredients
8 whole chicken thighs (bone in)
4 tbsp harissa paste
2 tbsp Pure Canadian maple syrup (preferably amber for its rich taste)
1 tbsp sea salt flakes
1 lemon juiced
3 cloves garlic, bashed
2 bay leaves
2 tsp dried chilli flakes
Small bunch of fresh flat leaf parsley
Method
Put all of the ingredients into a bowl and toss really well. Cover and chill for at least 2 hours, but preferably overnight. Remove from the fridge 20 minutes before you start cooking.
Heat a barbecue to medium-high with the coals banked up on one side. If using a gas barbecue, leave the burners off on one side. Put the chicken thighs skin-side down over the hot side for 5 minutes or until golden and charred, then move to the cool zone, away from the coals, and cook for another 35-40 minutes with a lid on, turning and moving every 5-8 minutes until cooked through.
Put back directly over the coals for a final 5 minutes to char and crisp up the thighs.
Serve with an extra drizzle of maple syrup and freshly chopped parsley.
The Quebec Maple Syrup Producers are not in any way responsible for the identification or presence of allergens in recipes or for the classification of any recipe as vegetarian or vegan.
Hundreds of Delicious Recipes
Maple is a special addition to any recipe, from starters and snacks to sumptuous desserts. Find one that's perfect for you, your family and friends.