Lemon Myrtle, Maple and Raspberry Cheesecake
---
Desserts / Cakes / Summer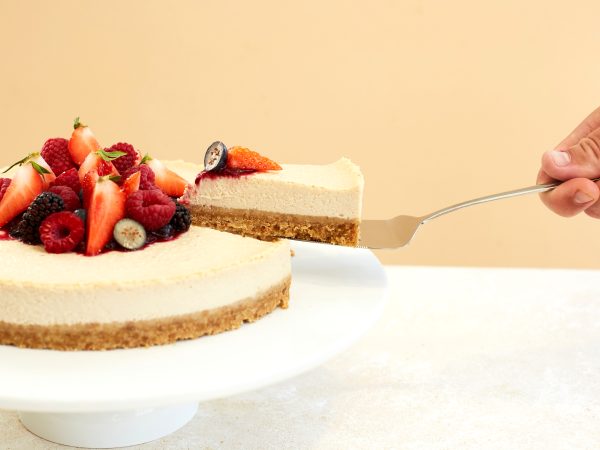 Ingredients
For the cheesecake base
300g digestive biscuit

s

, crushed

 

9

0g

u

nsalted butter

, melted

 

1g salt

 
For the cheesecake batter
100ml single cream

 

2 tbsp dried

l

emon myrtle

 

500g cream cheese

 

80g maple sugar

 

2 tbsp pure maple syrup (preferably golden colour for its delicate flavour)

 

15g cornflour

 

2 eggs

 

1 egg yolk

 

1 tsp vanilla extract

 
Method
For the cheesecake base:
Preheat oven to 160°c.

 

In a large bowl, mix

the

crushed digestive biscuit

s

,

salt

and melted butter.

 

Line a round piece of baking parchment in a 25cm springform cake tin.

 

P

ress the mixture into the bottom of the cake tin using a spoon and bake for 10 minutes.

 

Leave to cool on a wire rack while preparing the cheesecake batter.

 
For the cheesecake batter
Pour the single cream in a small pan and gently bring to a simmer.

 

Take the pan off the heat,

add the dried Lemon myrt

le

leaves

and leave to infuse for 15 minutes.

 

Mix the maple sugar and cornflour in a bowl.

 

In a mixer bowl with the paddle attachment, beat the cream cheese until smooth.

 

Change the paddle to the whisk attachment.

 

Add the maple sugar and cornflour mix into the cream cheese and whisk on a low speed.

 

Add in the eggs, egg yolk

,

maple syrup and vanilla extract and gently combine.

 

Drain the infused cream (step 1) with a sieve, then pour into the cheesecake batter

Pour the cheesecake batter into the prepared springform cake tin and bake for 1 hour.

 

 Keep refrigerated for 8 hours minimum after baking.

 

Once cool and set, run a round bladed knife around the sides of the tin to loosen any stuck edges.

 Unlock the side of the tin, slide the cheesecake off the bottom of the tin onto a plate, then slide the baking parchment out from underneath.

 

 To garnish, top the cheesecake with

fresh berries and pour over more

maple syrup, then serve.

 
If you like the look of this lemon and raspberry cheesecake, make sure to check out our other maple syrup cakes.
The Quebec Maple Syrup Producers are not in any way responsible for the identification or presence of allergens in recipes or for the classification of any recipe as vegetarian or vegan.
Hundreds of Delicious Recipes
Maple is a special addition to any recipe, from starters and snacks to sumptuous desserts. Find one that's perfect for you, your family and friends.