Maple beer can chicken
---
BBQ / Chicken / Mains / Summer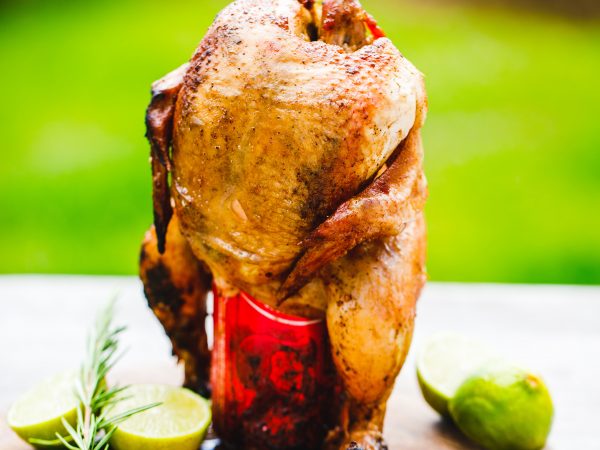 Ingredients
1 whole chicken, about 5lbs in weight
1 can of beer
2 tablespoons pure maple syrup
1 1/2 teaspoons salt
1 1/2 teaspoons pepper
1 teaspoon smoked paprika
1 teaspoon garlic powder
1/2 teaspoon onion powder
2 tablespoons unsalted butter, at room temperature
3 tablespoons olive oil
2 limes
Method
Preheat the BBQ.
Open the can of beer and pour about 1/4 of it into a deep metal baking dish. Set the can in the centre of the dish.
Remove the giblets and any other parts of the chicken and discard.
In a small bowl, stir together the maple syrup, salt, pepper, paprika, garlic powder, onion powder and chili powder.
In another bowl, add the softened butter. Add a few pinches (about 1/3 of the mix) of the spice mix to the butter and stir together until combined and smooth. Gently lift the skin of the chicken and rub the butter all over the breasts and the thighs (under the skin).
Slice one of the limes into 1/8-inch slices and slide them up underneath the skin.
Gently sit the chicken on top of the can of beer (the can needs to be inserted into the cavity) and rub the outsides with olive oil. Rub the remaining spice mix all over.
Carefully place the dish on to the BBQ grill and cook for 1 hour and 25 minutes. When finished, remove the dish from the grill and let the chicken rest for about 20 minutes.
Discard the can and slice/serve the chicken as you wish.
A real crowd pleaser, this beer can chicken is perfect for sharing and packs a flavoursome punch.
The Quebec Maple Syrup Producers are not in any way responsible for the identification or presence of allergens in recipes or for the classification of any recipe as vegetarian or vegan.
Hundreds of Delicious Recipes
Maple is a special addition to any recipe, from starters and snacks to sumptuous desserts. Find one that's perfect for you, your family and friends.