"Real" Crêpe Bretonne with Maple Salted Caramel and Apples
---
Breakfast and Brunch / Pancake recipes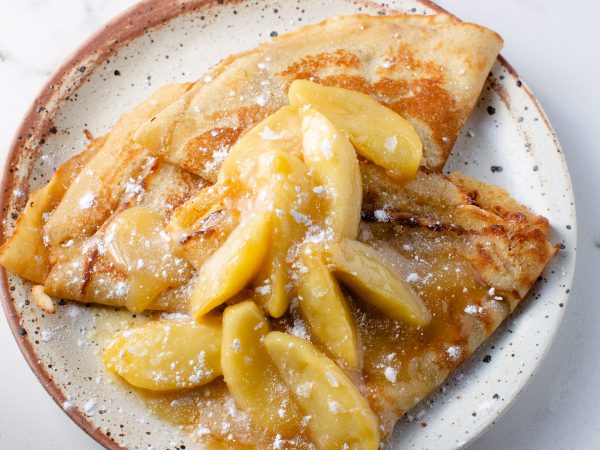 Ingredients
For the Crêpe Bretonne
3 large eggs
100g caster sugar
20g pure maple syrup (preferably golden colour for its delicate flavour)
8g table salt
500g wholemeal or buckwheat flour
175g salted butter, melted
1 litre whole milk
Dash of Calvados or brandy (optional)
Extra butter for cooking
For the salted maple syrup caramel
4 apples, peeled, cored and sliced
100ml pure maple syrup (preferably amber syrup for its rich taste)
100g salted butter
200ml double crème
2 tsp sea salt
Method
To cook the crêpe
In a large bowl, mix together the eggs, sugar and maple syrup then add half the milk and whisk.
Add flour, salt and melted butter and stir until smooth. Add the remaining milk and Calvados.
Heat a frying pan on medium and melt a knob of butter until it bubbles. Using a ladle, pour batter into the centre of the pan and swirl to evenly coat the base.
Cook for about 2 minutes on each side until lightly browned.
To serve, place crepe onto a warmed plate and fold in half, then half again.
To make the caramelised apples
In a small pan, gently heat the maple syrup and butter. Add in prepared apples and cook for about 5 minutes.
Remove pan from the heat, add double cream and sea salt and stir together to fully coat the apples in sauce.
Spoon caramelised apples and sauce over crepes and enjoy!
No one does crêpes like the French and this is the perfect authentic recipe with an added special ingredient, pure Canadian maple syrup!
The Quebec Maple Syrup Producers are not in any way responsible for the identification or presence of allergens in recipes or for the classification of any recipe as vegetarian or vegan.
Hundreds of Delicious Recipes
Maple is a special addition to any recipe, from starters and snacks to sumptuous desserts. Find one that's perfect for you, your family and friends.