William Curley's Orange, Maple and Praline Cake
---
Christmas / Ambassador / Cakes / Desserts / Desserts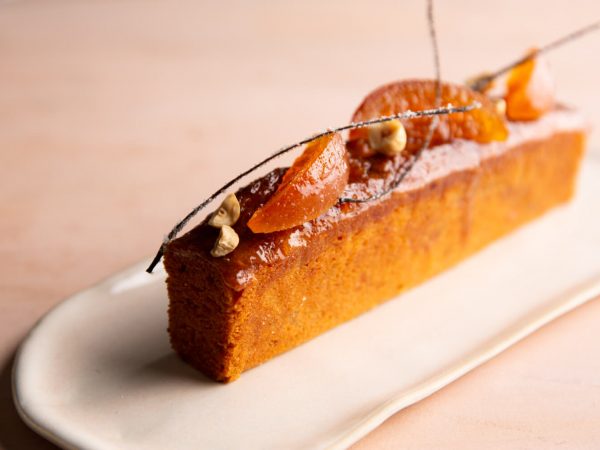 Ingredients
Equipment:
Three 23 x 3.5 x 6cm loaf tins
For the cake:
165g unsalted butter softened, plus extra for greasing
200g plain flour, plus extra for dusting
4g baking powder
80g cornflour
65g confit oranges (diced)
65ml full-fat milk
Scraped seeds from vanilla pod
265g maple sugar
A pinch of salt
65g praline paste
200g whole eggs (about 4 eggs)
For the syrup:
140g pure Canadian maple syrup (preferably amber syrup for its rich taste)
100g Grand Marnier
For decoration:
1 quantity of apricot nappage
2 confit oranges (cut into quarters, then in half)
20g chopped hazelnuts (roasted)
Crystallised vanilla stick
Method
Preheat the oven to 180°C
Grease three (23 x 3.5 x 6cm) loaf tins and line with silicone paper
Sift the flour, baking powder and cornflour into a bowl
Put the diced confit orange, milk and vanilla seeds in a saucepan and warm gently to a temperature of 37°C
Put the softened butter, maple sugar and salt together in a bowl and beat until light and creamy in texture, then add the praline paste
Gradually add the eggs and continue mixing until fully incorporated
Add the milk and confit orange, then fold in the sifted flour, cornflour and baking powder mixture
Divide the mixture between the three prepared loaf tins and bake for approximately 30 minutes
When the cakes are cooked, remove them from the oven and allow to cool slightly before demoulding
Combine the maple syrup and Grand Marnier
While the cakes are still warm, brush the top of each cake with the maple Grand Marnier syrup
Once the cakes are cool, glaze with apricot nappage and decorate with the confit oranges, hazelnuts and vanilla stick
A sweet delight flavoured with warming citrus and rich maple syrup. Topped with confit oranges, roasted hazelnuts and fragrant vanilla, this is a cake like no other.
The Quebec Maple Syrup Producers are not in any way responsible for the identification or presence of allergens in recipes or for the classification of any recipe as vegetarian or vegan.
Hundreds of Delicious Recipes
Maple is a special addition to any recipe, from starters and snacks to sumptuous desserts. Find one that's perfect for you, your family and friends.