What Luce Eats' Vegan Maple and Pecan Scones
---
Starters, Snacks and Sides / Influencer / Snacks / Veganuary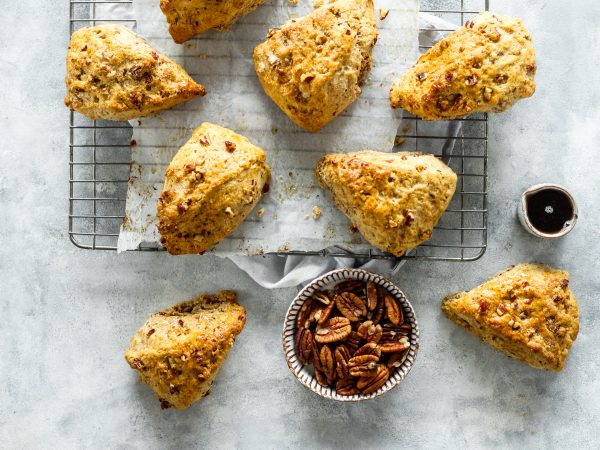 Ingredients
135g dairy-free butter
50ml canned coconut milk
80ml dairy-free milk
50ml pure maple syrup (preferably amber syrup for its rich taste)
390g plain flour
2tsp baking powder
1tsp ground cinnamon
90g chopped pecans
30g maple sugar
1 flax egg (1 tbsp flaxseed plus 2 tbsp of water left to sit for 10 minutes
Pinch of salt
Method
Preheat the oven to 180c.
Scatter the chopped pecans on a baking tray. Toast in the oven for 10 minutes.
Meanwhile in a large mixing bowl combine the flour, baking powder, cinnamon, salt and maple sugar.
Add the butter and using your hands combine the mixture until it turns more crumb-like.
In a separate mixing bowl combine the coconut milk, dairy free milk, maple syrup and the flax egg.
Pour the wet mixture into the dry and mix until combined.
Add the toasted chopped pecans and fold into the mixture.
Next sprinkle some flour on the work surface and transfer the dough onto it. Knead until the toasted pecans are evenly scattered throughout the dough
Shape the dough into a circle and cut into 8 scones and transfer them to a lined baking tray. Sprinkle with some more maple sugar.
Bake in the oven at 180c for 25-30 mins.
Allow to cool slightly before glazing with more maple syrup and enjoying.
Maple and pecan…a flavour match made in heaven. Wash these delicious scones, made for us by What Luce Eats, with a warm cup of tea and enjoy the pairing of sweet vegan-friendly maple and toasted pecans.
The Quebec Maple Syrup Producers are not in any way responsible for the identification or presence of allergens in recipes or for the classification of any recipe as vegetarian or vegan.
Hundreds of Delicious Recipes
Maple is a special addition to any recipe, from starters and snacks to sumptuous desserts. Find one that's perfect for you, your family and friends.