Winter Berries Pavlova
---
Desserts / Summer / Sweet Treats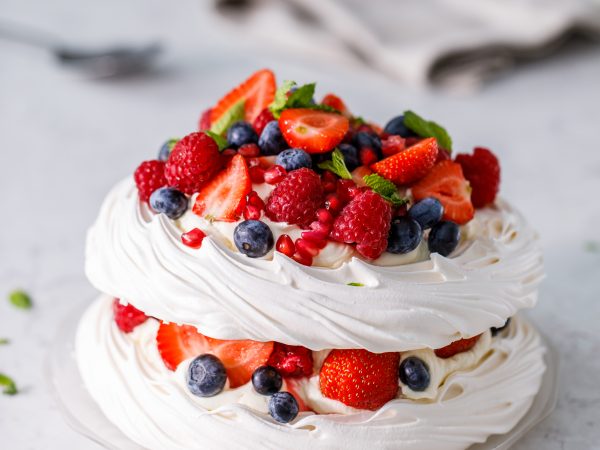 Ingredients
For the pavlova:
6 large free-range egg whites
350g caster sugar
1 tsp white wine vinegar
1 tsp cornflour
For the filling:
600ml double cream
1 tsp vanilla bean
50g icing sugar, sifted
200g strawberries, hulled and quartered
300g raspberries
200g blueberries
50g pomegranate seeds
A few mint leaves to decorate
Icing sugar, for dusting
Method
Preheat the oven to 160C/140C Fan/Gas 3. Line a large baking tray with baking parchment and draw a 30cm circle in the middle of the paper. Draw a 15cm circle in the centre of the larger circle to make a ring.
Put the egg whites in a clean mixing bowl and whisk with an electric whisk until soft peaks form when the whisk is removed. Gradually add the sugar a little at a time, whisking on maximum speed until they are stiff and glossy.
Mix the vinegar and cornflour in a cup until smooth, then stir into the egg whites.
Spoon the meringue onto the ring drawn on the baking parchment. Using a large spoon make a shallow trench in the meringue for the cream and fruit to sit in.
Transfer to the oven and immediately reduce the temperature to 140C/120C Fan/Gas 1. Bake for 1 hr–1 hr 15 mins, until the outside is hard but still white. Turn the oven off and leave the pavlova inside for an hour or overnight to cool and dry.
To assemble, whip the cream, vanilla paste and icing sugar until stiff peaks form when the whisk is removed. Spoon the cream into the trench in the meringue. Arrange the strawberries, raspberries, blueberries and pomegranate on top and decorate with a few mint leaves. To serve, cut into wedges and drizzle on maple syrup.
To serve, dust with icing sugar, cut into wedges and drizzle on maple syrup.
Crunchy meringue topped with sweet fruit and drizzled with delicate-tasting maple syrup. The perfect sharing dessert!
Chef tip: the pavlova can be made up to 1 month ahead and stored by wrapping it in cling film and then foil, and store in a cool place.
The Quebec Maple Syrup Producers are not in any way responsible for the identification or presence of allergens in recipes or for the classification of any recipe as vegetarian or vegan.
Hundreds of Delicious Recipes
Maple is a special addition to any recipe, from starters and snacks to sumptuous desserts. Find one that's perfect for you, your family and friends.