Asian duck and maple burrito, plum sauce
---
Mains / Child-friendly / Quick and easy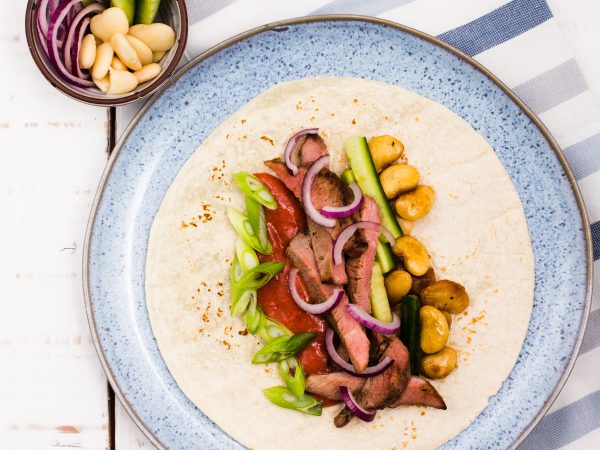 Ingredients
For the burrito:
4 x 250g duck breasts
15g ginger, finely chopped
4 tbsp soy sauce
8 tsp sesame oil
4 spring onions chopped
1 cucumber, cut into batons
2 tins of butter beans
Small bunch of coriander
4 tbsp pure maple syrup
2 red onion, sliced
Salt and pepper
4 large tortilla wraps
4 tbsp plum sauce
2 limes
For the plum sauce:
6 ripe Damson plums
3 tbsp pure maple syrup
1 star anise
Method
To make the burrito:
Remove fat from duck breast and marinade for 1 hour in the maple syrup, ginger, soy, and sesame oil.
Cut duck in thin strips and fry 1-2 minutes, add red onion and toss together.
Remove the duck and red onion from the pan and mix with spring onion and cucumber, place on the side.
Add marinade and reduce with butter beans then add to duck mixture.
Smear plum sauce on the wrap, pile duck mixture along the middle of the wrap.
Top with chopped coriander and finish with a squeeze of lime juice.
Roll up the wrap and enjoy.
To make the plum sauce:
De-stone plums and cook with 100ml maple syrup and star anise with a little water until soft, the blitz.
Season to taste.
Chef's tip:
For a healthier alternative, swap the duck for chicken or turkey.
Add fresh mango or papaya when in season to give a little zingy lift.
This mixture of South American and Asian cuisine is the perfect blend of flavours for any after school meal. You can swap the duck for chicken or turkey to make this into a healthier alternative
The Quebec Maple Syrup Producers are not in any way responsible for the identification or presence of allergens in recipes or for the classification of any recipe as vegetarian or vegan.
Hundreds of Delicious Recipes
Maple is a special addition to any recipe, from starters and snacks to sumptuous desserts. Find one that's perfect for you, your family and friends.