Coffee, maple and walnut cake
---
Cakes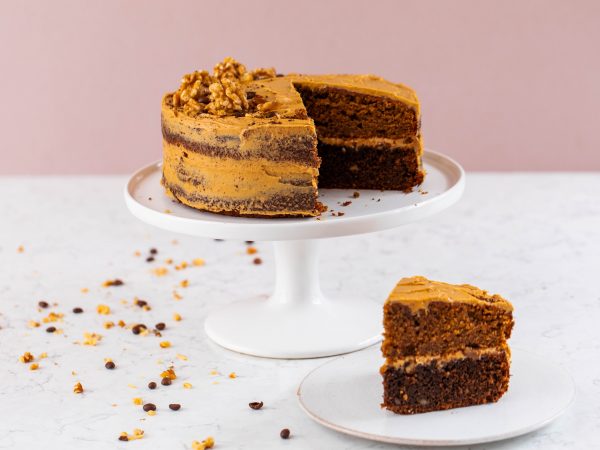 Ingredients
For the cake:
175g salted butter
5 tbsp strong instant coffee
150ml buttermilk
150g soft brown sugar
2 tbsp pure Canadian maple syrup
3 large eggs
200g self-raising flour
50g cornflour
1/2 tsp bicarbonate of soda
50g chopped walnuts
For the icing:
150g softened unsalted butter
250g golden icing sugar
4 tbsp instant coffee granules
50g chopped walnuts
Method
To make the cake:
Pre heat oven to 180C/Gas mark 4 and Grease two round 8″ cake tins.
Dissolve coffee in a jug in the amber, rich-tasting maple syrup. Stir in the buttermilk.
Place the butter, brown sugar and 1 egg into a large mixing bowl and beat together until creamy. Slowly add the last 2 eggs and continue to beat together.
In a separate bowl, sieve flour, cornflour and bicarbonate of soda together and gently sift into the egg mixture. Slowly add the coffee, maple syrup and buttermilk mix and fold together gently. Add and stir in the chopped walnuts.
Pour the cake mix into a large loaf tin or one large spring form round cake tin approx. 8" in diameter and bake for 30-45 minutes or until springy to the touch.
Remove from the oven and leave to cool on wire racks before icing.
To make the icing:
Place butter, golden icing sugar and coffee into a bowl and beat together until creamy and smooth (and all coffee granules are dissolved).
Spread thickly on top of the cake and sprinkle over the chopped walnuts to decorate.
This home-baked coffee, maple and walnut cake is the perfect afternoon treat served with a cup of English breakfast tea. The maple syrup adds a caramel flavour – perfectly complimenting the punchy coffee notes and walnuts.
The Quebec Maple Syrup Producers are not in any way responsible for the identification or presence of allergens in recipes or for the classification of any recipe as vegetarian or vegan.
Hundreds of Delicious Recipes
Maple is a special addition to any recipe, from starters and snacks to sumptuous desserts. Find one that's perfect for you, your family and friends.