Iced Maple Lemon Cake
---
Desserts / Cakes / Child-friendly / Picnic / Puddings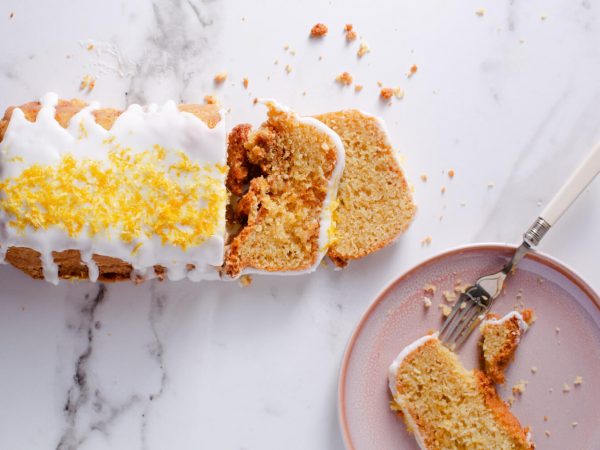 Ingredients
225g unsalted butter, softened plus extra for greasing
175g maple sugar
4 medium eggs
https://www.maplefromcanada.co.uk/about/four-grades-of-maple/4 tbsp pure maple syrup (preferably amber syrup for its rich taste)
225g self-raising flour, sieved
1 tsp baking powder
1 1⁄2 tsp ground ginger
Zest of 1 lemon
For the iced topping:
Juice of 1⁄2 lemon
2 tsp pure maple syrup (preferably amber syrup for its rich taste)
150g icing sugar
Method
Preheat the oven to 160°C/Gas 3 and grease a loaf tin with butter
In a large bowl, beat together the butter and maple sugar until pale, creamy and fluffy
Mix in eggs one at a time, followed by maple syrup. To this, fold in the flour, baking powder, ginger and lemon zest and stir to fully combine
Pour into a greased loaf tin and smooth over the top. Bake for 50 – 60 minutes or until an inserted skewer comes out clean
Remove from the oven, turn out onto a wire rack and leave to cool
Meanwhile, mix together all of the iced topping ingredients in a small bowl until a thick but pourable consistency is formed
When the cake is fully cooled, pour the topping in a zig-zag motion and leave to set. Garnish with extra lemon zest and serve
Keep in an airtight container for 3 – 4 days or freeze straightaway for up to a month
This tangy iced lemon loaf cake can be enjoyed at anytime of the day – or night.
The Quebec Maple Syrup Producers are not in any way responsible for the identification or presence of allergens in recipes or for the classification of any recipe as vegetarian or vegan.
Hundreds of Delicious Recipes
Maple is a special addition to any recipe, from starters and snacks to sumptuous desserts. Find one that's perfect for you, your family and friends.