Pancakes with Maple Bacon, Chipotle and Avocado
---
Breakfast and Brunch / Influencer / Pancake Day / Pancake recipes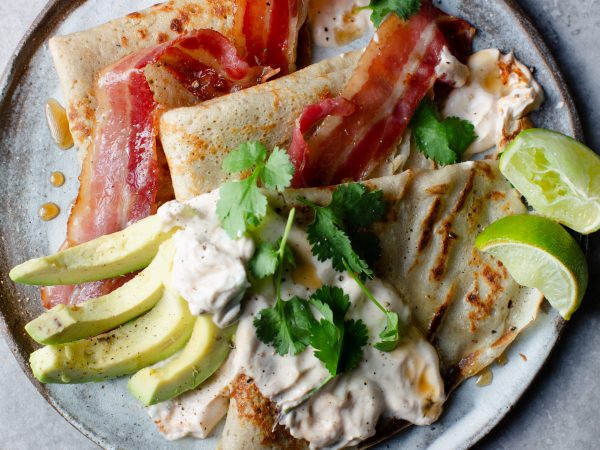 Ingredients
100g buckwheat flour (you can just use plain flour if you'd prefer)
80g plain flour
Sea salt and freshly ground black pepper
3 large eggs
25g melted butter, plus extra for frying
400ml whole milk
4 tbsp pure maple syrup, plus extra for serving (preferably amber syrup for its rich taste)
8 rashers of smoked, streaky bacon
200g sour cream
1 tsp chipotle paste
2 ripe avocados
2 limes
A few springs of coriander
Method
In a mixing bowl whisk together the two flours with a good pinch of salt. In a jug whisk together the eggs, butter, milk and 1 tablespoon of maple syrup until smooth.
Pour the liquid into the flour, whisk together until you have a smooth batter. Leave to rest for half an hour if you can.
When you're ready to make the pancakes, preheat your oven to a very low heat, to keep the pancakes and bacon warm whilst you are frying the batter.
Place a medium frying pan on a medium heat and add a small knob of butter. When the pan is hot, pour in a ladle of the batter and swirl around the pan.
Cook until golden, then flip and cook on the other side for a minute or two. Fold the pancake in half, then half again and place on a tray to keep warm in the oven while you repeat.
At the same time, lay the bacon out in a frying pan. Place on medium heat and fry on both sides until lightly golden – you shouldn't need to add any fat.
Drizzle in the remaining maple syrup and caramelise in the pan for a few minutes. Transfer to a serving plate.
Ripple together the sour cream and chipotle paste. Slice the avocado into slices, halve the limes and pick the coriander leaves.
Serve the pancakes to the table with all the accompaniments, and tuck in.
Pancakes don't always have to be sweet! The crispy maple bacon in this recipe complements the creamy avocado perfectly and the chipotle mayo gives it all a little kick.
The Quebec Maple Syrup Producers are not in any way responsible for the identification or presence of allergens in recipes or for the classification of any recipe as vegetarian or vegan.
Hundreds of Delicious Recipes
Maple is a special addition to any recipe, from starters and snacks to sumptuous desserts. Find one that's perfect for you, your family and friends.