Maple cauliflower buffalo wings
---
Snacks / Snacks / Sport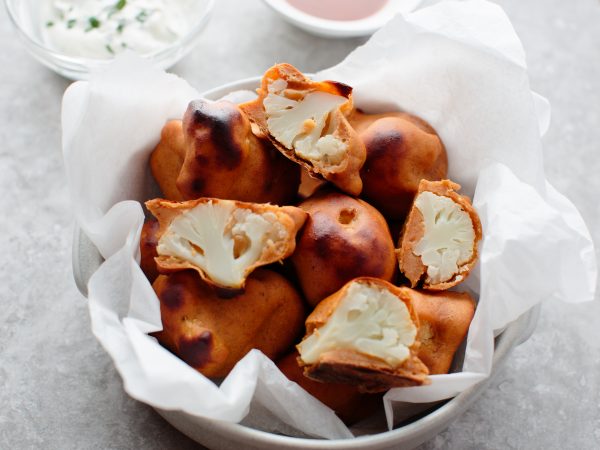 Ingredients
1 head of cauliflower, broken into florets
192g strong white flour
2tsp smoked paprika
2tsp cumin
2tsp ground coriander
280ml buttermilk
100ml full fat milk
2tsp salt
4 tbsp sunflower spread
2tbsp pure Canadian maple syrup (preferably dark syrup for its robust taste)
3 spring onions
Method
Preheat the oven to 180 degrees
Mix together the spices and flour
Add the sunflower spread, maple syrup, milk and buttermilk and mix together until it forms a batter
Coat the cauliflower florets in batter and place on a baking tray lined with lightly oiled baking paper
Bake for 20 minutes until golden brown and slightly catching
Leave for a moment to cool and sprinkle with chopped spring onions or fresh herbs of your choice
Tip: Batter can be made in advance if necessary. If you can't get buttermilk, mix 280ml full fat milk with the juice of a lemon. Serve with a dip of your choice, we recommend either hot sauce, blue cheese dip or a maple yoghurt dip
These veggie baked treats look too good to be healthy – but they actually provide one of your 5-a-day. Served with a maple yoghurt dip that you won't be able to resist.
The Quebec Maple Syrup Producers are not in any way responsible for the identification or presence of allergens in recipes or for the classification of any recipe as vegetarian or vegan.
Hundreds of Delicious Recipes
Maple is a special addition to any recipe, from starters and snacks to sumptuous desserts. Find one that's perfect for you, your family and friends.