Turkey Curry with Maple
---
Christmas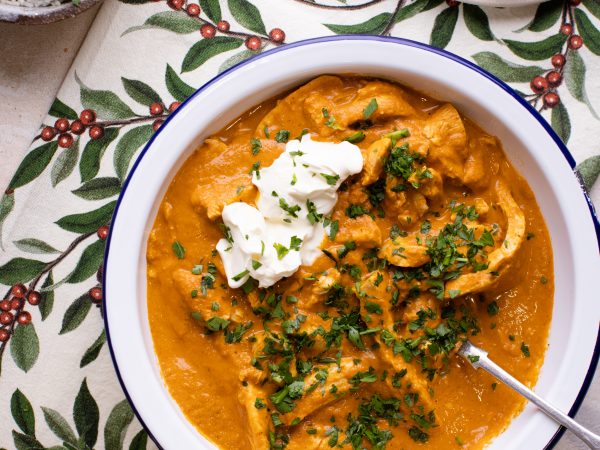 Ingredients
2 tbsp vegetable oil
2 onions, roughly chopped
1 small piece of fresh ginger, finely chopped
6 garlic cloves, crushed
1 tin of chopped tomatoes
500 grams of leftover cooked turkey, shredded
200ml coconut milk
2 tbsp almond butter
3 tbsp maple sugar
1 tbsp garam masala
1 tsp ground turmeric
1 tsp ground coriander
1 tsp ground cumin
1/5 tsp chilli powder
Seeds from 4 cardamom pods
Salt and pepper, to season
Handful fresh coriander, roughly chopped
Method
Heat the oil in a large pot over medium-high heat. Add the onion and let it cook until it is soft and well browned, about 10 minutes.
Add the ginger, garlic and spices to the pot and cook for 1 minute.
Add the tomatoes then fill the tin halfway with water and add to the pot. Stir the sauce then reduce to a simmer, cover and leave for 15 minutes.
Carefully transfer to a blender and blend until smooth.
Return the sauce to the pot, add turkey, cream, almond butter and maple sugar and heat through.
Season to taste with salt and pepper, top with the fresh coriander and serve with all the trimmings.
This turkey curry with maple is a quick and easy crowd-pleaser packed with flavour to use up that never ending Christmas turkey.
Find more Christmas recipes in our free 'A Very Maple Christmas' cookbook here.
The Quebec Maple Syrup Producers are not in any way responsible for the identification or presence of allergens in recipes or for the classification of any recipe as vegetarian or vegan.
Hundreds of Delicious Recipes
Maple is a special addition to any recipe, from starters and snacks to sumptuous desserts. Find one that's perfect for you, your family and friends.