Vegan Chocolate and Maple Fondant
---
Seasonal / Christmas / Desserts / Puddings / Winter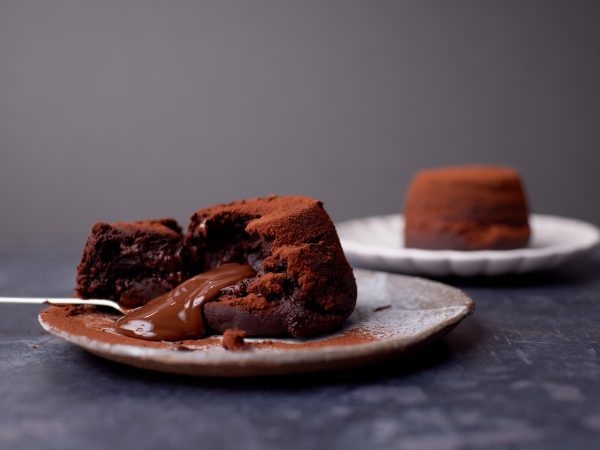 Ingredients
1 tbsp of vegetable oil
60g dairy-free spread
60g maple sugar
1 banana
1 tbsp of maple syrup (preferably golden for its delicate flavour)
30g dark chocolate
60ml almond milk
60g self-raising flour
3 tbsp cocoa powder
1 pinch of salt
1 tbsp of vanilla
Method
Prepare your ramekins or tins by brushing them with a flavourless vegetable oil then dust with cocoa powder.
Cream together the dairy free spread and maple sugar until pale and creamy.
Add in the mashed banana and maple syrup and beat well.
Melt the dark chocolate in the microwave.
Place 4 tsp of the mixture on to a small plate and place in the freezer for 30 minutes or until they are just starting to firm up.
Pre-heat the oven to 180C / 356F / gas mark 4.
Next, fold in the flour, cocoa powder, salt, and vanilla paste to the remaining cake mixture.
Half fill each of the ramekins / tins with the cake mix.
Place the almost frozen cake mix into the centre of each ramekin/tin.
Cover over with the remaining cake mix.
Put the ramekins/tins in the oven and bake for 12 – 15 minutes or until the tops look set but when the pan is shaken, they have a slight wobble to them.
Remove them from the oven and give them a minute or two to cool slightly.
Run a spatula round the edge of the pan and turn them out on to the plate.
Serve with your choice of plant-based ice cream or pouring cream and fresh fruit.
One of our all-time favourite vegan dessert recipes, this melt-in-the-middle chocolate fondant truly tastes as good as it looks. Dark chocolate, cocoa powder and pure maple syrup combine to form the most decadent vegan chocolate pudding.
The Quebec Maple Syrup Producers are not in any way responsible for the identification or presence of allergens in recipes or for the classification of any recipe as vegetarian or vegan.
Hundreds of Delicious Recipes
Maple is a special addition to any recipe, from starters and snacks to sumptuous desserts. Find one that's perfect for you, your family and friends.