James Golding's Maple Cured Trout Tartare
---
Starters / Ambassador / Mains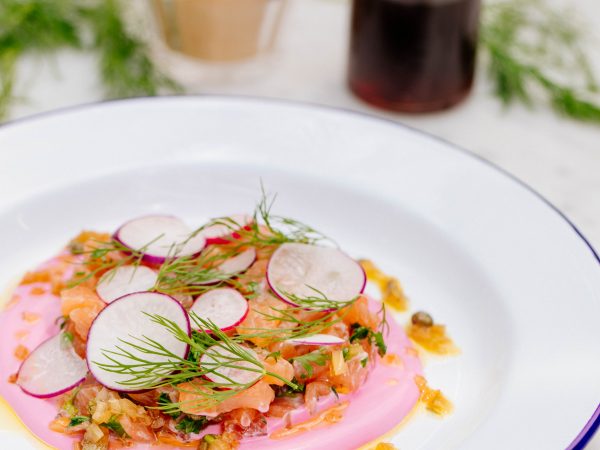 Ingredients
Dry cure ingredients
2 tbsp rock salt
40g maple sugar
1 tsp black pepper
Zest of 1 lemon, 1 tbsp of juice
2 tbsp chopped dill or flat-leaf parsley
2 trout fillets
Shallot dressing ingredients
2 shallots, finely chopped
Zest and juice of 1 lemon
2 cloves of garlic, crushed with skins on
5 stalks of dill
300ml rapeseed and olive oil mixed
2 tbsp maple vinegar
Sprig of fresh thyme
Beetroot dressing ingredients
200g soured cream / crème fraîche
250ml beetroot juice (from a jar of pickled beetroot)
2 tbsp horseradish cream / grated horseradish root
Trout dressing ingredients
3 or 4 chopped radishes
1 tbsp capers
Handful of chopped parsley
Juice of half a lemon
1-2 tbsp maple vinegar
Method
Place the dry-cure ingredients in a deep tray, mix together and place the trout fillets on top and cover with dry-cure mix. Cover with cling film and refrigerate for 1 hour to infuse.
In a small saucepan, gently heat finely chopped shallots, garlic, maple vinegar, lemon zest and the herbs cook until tender with the rapeseed and olive oil mix.
In a small bowl, whisk together beetroot juice, horseradish and soured cream.
Remove the fish from the fridge. Gently shake off excess dry-cure mix and carefully dice trout fillets into 1cm cubes.
Place in a bowl and add capers, chopped parsley and lemon juice, splash of maple vinegar and stir together.
To serve, spread beetroot and horseradish cream onto the plate in a circular motion. Using a small round mould, spoon trout tartare into the middle. Spoon over your shallot, lemon and caper dressing – decorate with radishes to finish and sprig of dill.
A mild, delicate flavour in trout but paired with a punchy horseradish cream and confit shallots, maple softens the overall flavour profile.
The Quebec Maple Syrup Producers are not in any way responsible for the identification or presence of allergens in recipes or for the classification of any recipe as vegetarian or vegan.
Hundreds of Delicious Recipes
Maple is a special addition to any recipe, from starters and snacks to sumptuous desserts. Find one that's perfect for you, your family and friends.