Maple pork shawarma wraps with tomato salad
---
Mains / Mains / Pork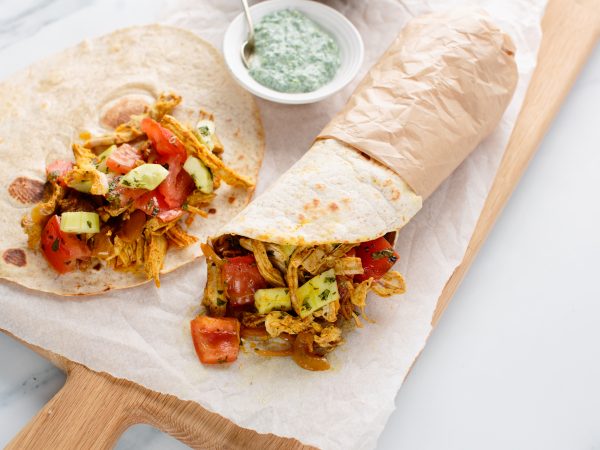 Ingredients
For the wraps:
300g strips or pieces of pork
4 onions, peeled and finely sliced
1tsp cumin powder
1tsp coriander powder
1tsp ground cloves
1tsp turmeric
1tsp hot paprika or 2tsp normal strength paprika
6tbsp olive oil
4tbsp pure Canadian maple syrup (preferably dark syrup for its robust taste)
6 wholemeal wraps
For the herb sauce:
Handful of parsley, chopped
Handful of coriander, chopped
3tbsp natural yoghurt
For the salad:
5 beef tomatoes, chopped, core removed
1 cucumber, peeled, de-seeded and chopped
20g mint, chopped
Black pepper
5-6 tbsp olive oil
Method
Mix the spices in a bowl with olive oil, maple syrup and onions. Pour over the pork strips and leave to marinade overnight
Preheat the oven to 200 degrees
Place the pork and onion mixture on a tray and cook for 25-30 minutes
Char the wraps on a grill
Make the salad by dressing the chopped tomatoes and cucumber with the mint, black pepper and olive oil
Combine all of the herb sauce ingredients
Assemble the wraps and serve
Craving a take-away but don't want to give in? This delicious pork wrap will satisfy your bad habits and is far healthier than you think.
The Quebec Maple Syrup Producers are not in any way responsible for the identification or presence of allergens in recipes or for the classification of any recipe as vegetarian or vegan.
Hundreds of Delicious Recipes
Maple is a special addition to any recipe, from starters and snacks to sumptuous desserts. Find one that's perfect for you, your family and friends.