Roast Pork with Maple and Sausage Stuffing
---
One Pot Recipes / Mains / Pork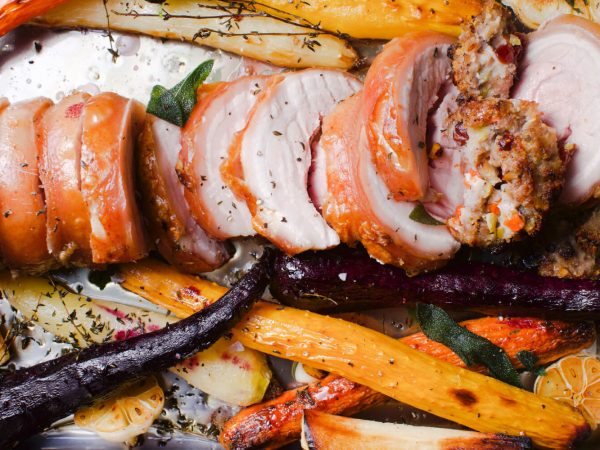 Ingredients
2kg pork belly, boned and rolled
Olive oil
Sea salt
For the baked maple stuffing:
25g butter
1 onion, finely chopped

2 leeks, finely chopped

3 celery stalks, peeled and finely chopped
2 carrots, peeled and diced
200g sausage meat
2 tbsp pure maple syrup (preferably amber syrup for its rich taste)
1 orange, zest and juiced
50g pecans, chopped
6 sage leaves, chopped
100g breadcrumbs
Salt and pepper for seasoning
Method
Preheat oven to 180°C/Gas 4
Heat a pan and melt butter, fry onions, leeks, celery and carrots together then add sausage meat
Break up the sausage meat using a spoon and continue to cook for a further 5 minutes
Add maple syrup, orange zest and juice, pecans and sage leaves, breadcrumbs and salt and pepper
Mix together and transfer to a square deep baking tray, levelling out with the back of a fork and set aside
Place rolled pork in a deep roasting tray and brush with olive oil and season with salt
Place rolled pork seam down onto a wire rack inside a deep roasting tray, brush with olive oil and season with salt
Roast pork for 2 and ½ hours, increase oven temperature 25 minutes before the end of the cooking time to help develop crispy pork skin
At the same time, place the stuffing in the oven and bake for 25 minutes until sausage meat is cooked through
Rest the pork for up to 30 minutes before carving
A rich maple and sausage stuffing makes a great accompaniment for classic roast pork belly.
The Quebec Maple Syrup Producers are not in any way responsible for the identification or presence of allergens in recipes or for the classification of any recipe as vegetarian or vegan.
Hundreds of Delicious Recipes
Maple is a special addition to any recipe, from starters and snacks to sumptuous desserts. Find one that's perfect for you, your family and friends.