One Pan Maple, Squash and Pancetta Pasta
---
Pasta / Christmas / Mains / One Pot Recipes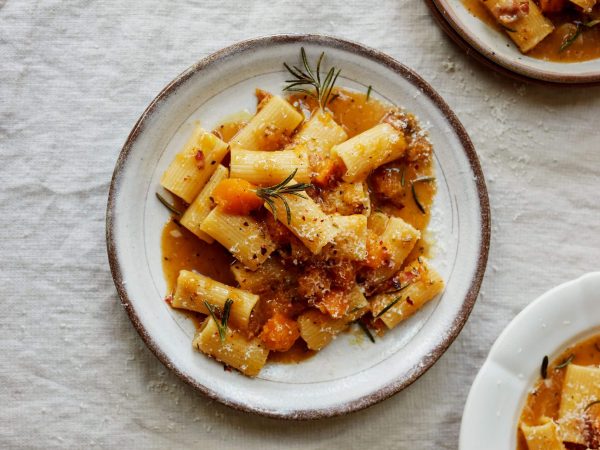 Ingredients
½ butternut squash, around 500g
4 sprigs of rosemary, leaves picked
2 garlic cloves, peeled and finely sliced
8 slices pancetta, finely sliced
Olive oil
½ teaspoon chilli flakes
¼ teaspoon ground cinnamon
2 tablespoons pure Canadian maple syrup (preferably amber syrup for its rich taste)
1l vegetable stock
350g dried pasta
Sea salt and freshly ground black pepper
60g parmesan, finely grated
Method
Carefully remove the skin from the squash and cut into 2cm chunks. Roughly chop the rosemary leaves
Place a large saucepan or casserole (big enough to fit all the ingredients) on a medium – low heat and add a good drizzle of olive oil
Fry the pancetta and garlic for a couple of minutes until just golden then stir in the chopped rosemary leaves, butternut squash, chilli flakes and cinnamon
Fry for 4 – 5 minutes, until the squash is a little golden. Drizzle over the maple, fry for a couple more minutes till sticky and pour over the stock. Bring to the boil, then turn the heat down a little and simmer for 3 minutes
When the squash feels about half cooked stir in the pasta. The stock should just cover the pasta, but if not add a splash more boiling water
Season generously, reduce the heat and cover the pan. Cook for a further 8 – 10 minutes – you want the pasta to be al dente so check the packet instructions
When it is ready, remove the lid, turn up the heat and continue to cook for a minute or two to reduce the stock – it shouldn't be soupy, but still a little wet, the pasta will absorb this as it cools
Add most of the parmesan and more black pepper. Taste and tweak the seasoning
Wait for 2 – 3 minutes to absorb more of the liquid off of the heat and give it a few more stirs, until silky and glossy. Then serve with the remaining parmesan over the top
Packed with flavour – this creamy butternut squash, rich maple and pancetta one pan dish exudes warmth and comfort, perfect for any occasion.
The Quebec Maple Syrup Producers are not in any way responsible for the identification or presence of allergens in recipes or for the classification of any recipe as vegetarian or vegan.
Hundreds of Delicious Recipes
Maple is a special addition to any recipe, from starters and snacks to sumptuous desserts. Find one that's perfect for you, your family and friends.