Turmeric Veggie Fried Rice
---
Vegan Mains / Back to School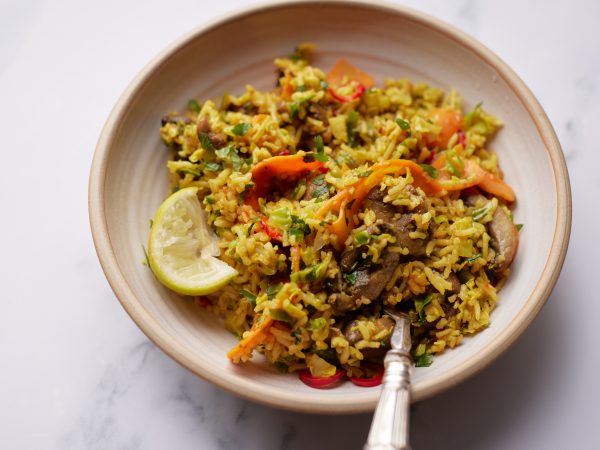 Ingredients
For the rice
2 tbsp vegetable oil
250g chestnut mushrooms
60g finely grated ginger
2 thumbs-sized pieces of turmeric, peeled and finely grated (or use 1 tbsp of ground turmeric)
4 thinly sliced garlic cloves
8 thinly sliced brussels sprouts
500g of ready-cooked basmati rice (two pouches)
3 tbsp water
4 thinly sliced spring onions
2 large carrots (peeled into ribbons)
1 large bunch of chopped coriander
For the sauce
100g sriracha sauce
50g pure Canadian maple syrup (preferably amber for its rich taste)
1 chopped red chilli
1 chopped garlic clove
Method
To make the rice
Heat the oil in a large wok
Add the mushrooms and fry for 5 minutes or until all moisture has evaporated
Add the ginger, turmeric, garlic and the brussels sprouts and fry for one minute.
Add the rice, stir well and add a few tablespoons of water.
Cover the pan with a lid for one minute. Shaking the pan a few times to prevent sticking.
Remove the lid from the rice and stir well before adding the spring onions, carrot ribbons, coriander and a generous amount of seasoning.
Give a final stir and serve with a drizzle of maple and sriracha sauce.
To make the sauce
Put all ingredients together in a small pan over a medium heat.
Simmer the sauce for 5 minutes.
Keep on one side and serve with rice.
A quick and convenient vegetable fried rice recipe. Fresh veggies are paired with spicy sriracha to create a delicious stir fry rice dish that's bursting with flavour. Equally enjoyable on the side or as a vegan main.
The Quebec Maple Syrup Producers are not in any way responsible for the identification or presence of allergens in recipes or for the classification of any recipe as vegetarian or vegan.
Hundreds of Delicious Recipes
Maple is a special addition to any recipe, from starters and snacks to sumptuous desserts. Find one that's perfect for you, your family and friends.